As Surprising As It Might Seem, I Actually Love My In-Laws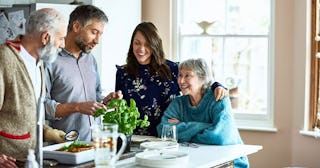 10'000 Hours/Getty
I fully fell in love with my in-laws when I moved from Utah to Minnesota for graduate school. Mel's parents traveled with us. Her father Paul, a grey-haired retired gas company mechanic with a sharp, awkward laugh and an adorable shrug, pulled our moving trailer with his blue Dodge Ram. Mel's mother Joan, a short, warm woman with brown hair and an affinity for sweatshirts and hugs, drove our car as my wife sat in the passenger seat taking care of our two young children. I drove our pickup truck. Every vehicle was packed to the gills.
It was quite the caravan.
They stayed with us in Minnesota long enough to get settled. And while some of you reading this might think this is just how families are, I want to point out that I came from a messy childhood. My father died from drug addiction when I was 19. I ran away when I was 14 and eventually moved in with my grandmother. Growing up, family didn't mean a whole lot to me. I didn't ask anything from my family because I didn't trust them. Simple fact.
And when I first got married and Mel's parents were all active and trying to help all the time, I didn't trust them, either. I don't think I've ever told them this, and if they are reading, I hope they don't take this the wrong way. But whenever someone was as kind as they were, I assumed they wanted something in return. They were trying to manipulate me. Sadly, this is what I'd come to expect from other people. The thought of caring for and loving your family simply because they are family was something I'd never experienced, so I assumed they were much like my father, who was very kind and then very engaged right before he would ask me for drug money. Or when he'd met a new woman and needed to appear to be a good father.
When people talk about emotional baggage, this is what it looks like. I will say, my childhood taught me a lot about being independent. I knew how to take care of myself, and I learned a lot about how not to be a good father and a good family member. But what I've gone on to learn from my in-laws is how to unconditionally love your family.
In the almost 16 years I've been with my wife, from Paul and Joan's example, I've learned what it means to love someone. I still remember the day they left our small town home in Minnesota after getting us settled. My mother-in-law cried. She cried harder than I'd ever seen her cry, but it wasn't because things hadn't worked out the way she wanted, or someone had let her down, or someone had died. I'd seen people cry for those reasons. It was because she loved her daughter, she loved her grandchildren, and she was going to miss us.
I'd never seen someone cry for those reasons. It caused me to feel emotions I'd never experienced. The way she hugged our then two-year-old son was incredible. She just squeezed him, and he was so in love with her, he didn't move. He hugged her back equally as hard. For a two-year-old, that is remarkable. I remember watching that embrace and realizing that it was an example of the pure love I'd always longed for as a child but never really experienced until adulthood.
I've been a father for 13 years now, and I love my children more than I thought I could love anyone. I've grown to not only love my wife more, but to also respect her, admire her, and know that I can trust her more than I've ever trusted anyone. And I've learned that my in-laws are there for us. They are this unwavering, dedicated duo of humans who will always answer the phone, who will always dote over my children, and will do anything, and I mean anything, to maximize their relationship with my family. It really is one of the more beautiful things I've experienced as an adult, and frankly it is in contrast with anything I ever experienced as a child. I cannot help but be 100% grateful for it, and I am happy to know that I married into this family that showed me what real, pure love actually looks like.
I know that in-laws can get a bad rap sometimes. I know that some of them can even drive a marriage to failure. But they're not all bad. Some of us got lucky, and if you're in that camp, give the wonderful, compassionate in-laws in your life a solid hug, because they deserve it.
This article was originally published on