145+ Love Quotes For Her That Will Leave Her Swooning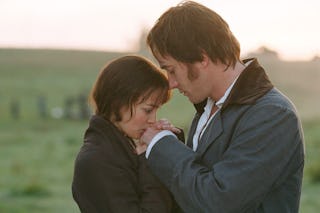 Focus Features
You love her so much. But sometimes it's hard to put into words just how much you really do care. After all, as much as we love love, expressing our desires can be difficult sometimes. Love is probably one of the most terrifying and beautiful feelings you can experience. It's timeless, and for the right one, it has no limits. It's even said that love makes you crazy. Although, if we're being totally honest, we don't love the reference to mental illness (as indirect as it may be) to describe an emotional state. Having said that, of course we danced to Beyoncé's hit "Crazy in Love" during our younger days — how could you not?! Between the songs, poems, and dances dedicated to the idea of all-encompassing romance, we all have an idea of what love looks like. Still, it can be complicated and hard to explain what's in your heart. Enter, love quotes.
David Viscott once said, "To love and be loved is to feel the sun from both sides." If you want to fill your love bug with this warm feeling Viscott describes, slip them one of these quotes below. We've rounded up the sweetest phrases that'll make her fall in love with you all over again. You don't meet the girl of your dreams every day, so when you do, it's important to know what to say.
Whether you're looking for quotes to describe how crazy in love you are with somebody, love quotes for her, or just a new way of saying "I'm mad about you," we've got plenty of fun options to choose from. Keep reading for a round-up of the most romantic and passionate love quotes. We even threw in a few quotes about kisses just to set the mood. You're welcome.)
Want to add more romance to your love life? Check out our pages on best boyfriend gift ideas, sex positions, Literotica, and more.
Best General Love Quotes For Her
"We loved with a love that was more than love." — Edgar Allan Poe
"Her heart was wild, but I didn't want to catch it; I wanted to run with it, to set mine free." — Atticus
"If I had a flower for every time I thought of you… I could walk through my garden forever." — Alfred, Lord Tennyson
"I don't love you as if you were a rose of salt, topaz,
or arrow of carnations that propagate fire: I love you as one loves certain obscure things, secretly, between the shadow and the soul. I love you as the plant that doesn't bloom but carries the light of those flowers, hidden, within itself, and thanks to your love the tight aroma that arose from the earth lives dimly in my body. I love you without knowing how, or when, or from where, I love you directly without problems or pride: I love you like this because I don't know any other way to love, except in this form in which I am not nor are you, so close that your hand upon my chest is mine, so close that your eyes close with my dreams." — Pablo Neruda, Sonnet 17
"In short, I will part with anything for you, but you." — Mary Wortley Montagu
"Come live in my heart and pay no rent." — Samual Lover
"When I saw you I fell in love, and you smiled because you knew." — Arrigo Boito
"If I know what love is, it is because of you." — Hermann Hesse
"So, I love you because the entire universe conspired to help me find you." — Paulo Coehlo
"They say when you are missing someone that they are probably feeling the same, but I don't think it's possible for you to miss me as much as I'm missing you right now." — Edna St. Vincent Millay
"We are most alive when we're in love." — John Updike
"In all the world, there is no love for you like mine." — Maya Angelou
"If forever does exist, please let it be you." — A.R. Asher
"Love comforteth like sunshine after rain." — William Shakespeare
"The most important thing in the world is family and love." — John Wooden
"I love you, not only for what you are but for what I am when I am with you." — Roy Croft
"I say this to you now: I love you, with no beginning, no end. I love you as you have become an extra necessary organ in my body. I love you as only a girl could love a boy. Without fear. Without expectations." — Jamie Weise
"My night has become a sunny dawn because of you." — Ibn Abbad
"For you see, each day I love you more, today more than yesterday and less than tomorrow." — Rosemonde Gerard
"I love you right up to the moon — and back." — Sam McBratney
"Your heart and my heart are very, very old friends." — Hafez
"There is no remedy for love but to love more." — Henry David Thoreau
"Tonight I can only say that I love you too well for my peace of mind, and that absence from you is death to me." — Honore de Balzac
"Your words are my food, your breath is my wine. You are everything to me." — Sarah Bernhardt
"My love for you is past the mind, beyond my heart, and into my soul." — Boris Kodjoe
"You're nothing short of my everything." — Ralph Block
"Love is being stupid together." — Paul Valery
"I fell in love with you because there was a mischief in your eyes." — Michka Assayas
"Meeting you was fate… becoming your friend was a choice. But falling in love with you I had no control over." — Teresa Conroy
"To love and be loved is to feel the sun from both sides." — David Viscott
"I swear I couldn't love you more than I do right now, and yet I know I will tomorrow." — Leo Christopher
"You are the finest, loveliest, tenderest, and most beautiful person I have ever known — and even that is an understatement." — F. Scott Fitzgerald
"I love you begins by I, but it ends up by you." — Charles de Leusse
"Love knows not distance; it hath no continent; its eyes are for the stars." — Gilbert Parker
"We love the things we love for what they are." — Robert Frost
"In case you ever foolishly forget: I am never not thinking of you." — Virginia Woolf
"Immature love says: 'I love you because I need you.' Mature love says 'I need you because I love you.'" — Erich Fromm
"What is love? It is the morning and the evening star." — Sinclair Lewis
"I love you. I am at rest with you. I have come home." — Dorothy L. Sayers
"I seem to have loved you in numberless forms, numberless times, in life after life, in age after age forever." — Rabindranath Tagore
"Sometimes the heart sees what is invisible to the eye." — H. Jackson Brown Jr.
"I saw that you were perfect, and so I loved you. Then I saw that you were not perfect, and I loved you even more." — Angelita Lim
"And I'd choose you, in a hundred lifetimes, in a hundred worlds, in any version of reality. I'd find you and I'd choose you." — Unknown
"In all the world, there is no heart for me like yours. In all the world there is no love for you like mine." — Maya Angelou
"There is only one happiness in this life, to love and be loved." — George Sand
"Love does not dominate; it cultivates." — Johann Wolfgang von Goethe
"There is a madness in loving you, a lack of reason that makes it feel so flawless." — Leo Christopher
"I know I am in love with you because my reality is finally better than my dreams." — Dr. Seuss
"It's always better when we're together." — Jack Johnson
Best Love Quotes From Books, Movies, and TV
"I crossed a thousand leagues to come to you and lost the best part of me along the way. Don't tell me to leave." — George R.R. Martin, A Storm of Swords
"I think I'd miss you even if we'd never met." — The Wedding Date
"I loved you like a man loves a woman he never touches, only writes to, keeps little photographs of." — Charles Bukowski, Love Is A Dog From Hell
"I do know some things. I know I love you. I know you love me." — Game of Thrones
"I've been in love with you since the very beginning. You asked why there isn't anyone else in my life, and the reason… is you." — Julie James, Practice Makes Perfect
"Here it's safe. Here it's warm. Here the daisies guard you from every harm. Here your dreams are sweet and tomorrow brings them true. Here is the place where I love you." — Suzanne Collins, The Hunger Games
"I love you. You complete me." — Jerry Maguire
"You make me want to be a better man." — As Good As It Gets
"For the two of us, home isn't a place. It is a person. And we are finally home." — Stephanie Perkins, Anna And The French Kiss
"It doesn't matter if the guy is perfect or the girl is perfect, as long as they are perfect for each other." — Good Will Hunting
"I could not tell you if I loved you the first moment I saw you, or if it was the second or third or fourth. But I remember the first moment I looked at you walking toward me and realized that somehow the rest of the world seemed to vanish when I was with you." — Cassandra Clare, Clockwork Prince
"Love is passion, obsession, someone you can't live without. If you don't start with that, what are you going to end up with?" — Meet Joe Black
"So it's not gonna be easy. It's going to be really hard; we're gonna have to work at this every day, but I want to do that because I want you. I want all of you, forever, every day. You and me, every day." — The Notebook
"The best love is the kind that awakens the soul and makes us reach for more, that plants a fire in our hearts and brings peace to our minds. And that's what you've given me. That's what I'd hoped to give you forever." — The Notebook
"I would rather have had one breath of her hair, one kiss of her mouth, one touch of her hand, than eternity without it. One." — City of Angels
"I have crossed oceans of time to find you." — Dracula (1992)
"You are my best friend as well as my lover, and I do not know which side of you I enjoy the most. I treasure each side, just as I have treasured our life together." — The Notebook
"The greatest thing you'll ever learn is just to love and be loved in return." — Moulin Rouge
"But I love you. I'm totally and completely in love with you and I don't care if you think it's too late. I'm telling you anyway." — No Strings Attached
"It was a million tiny little things that, when you added them all up, they meant we were supposed to be together… and I knew it." — Sleepless In Seattle
"If I had to dream up the perfect woman, she wouldn't even come close to you." — Boy Meets World
"Once upon a time there was a boy who loved a girl and her laughter was a question he wanted to spend his whole life answering." — Nicole Krauss, The History Of Love
"You will never age for me, nor fade, nor die." — William Shakespeare, Shakespeare in Love
"I love you. I knew it the minute I met you. I'm sorry it took so long for me to catch up. I just got stuck." — Silver Linings Playbook
"No, I like you very much. Just as you are." — Bridget Jones's Diary
"It's like my life isn't even real to me unless you're there and you're in it and I'm sharing it with you." — Gilmore Girls
"I know that somehow, every step I took since the moment I could walk was a step towards finding you." — Nicholas Sparks, Message in a Bottle
"I love you, and I will love you until I die, and if there's a life after that, I'll love you then." — Cassandra Clare, City of Glass
"You want the moon? Just say the word, and I'll throw a lasso around it and pull it down." — It's a Wonderful Life
"I've never had a moment's doubt. I love you. I believe in you completely. You are my dearest one. My reason for life." — Ian McEwan, Atonement
"We are made of particles that existed since the moment the universe began. I like to think those atoms traveled 14 billion years through time and space to create us so that we could be together and make each other whole." — The Big Bang Theory
"Whatever happens tomorrow, or for the rest of my life, I'm happy now because I love you." — Groundhog Day
"I wish I knew how to quit you." — Brokeback Mountain
"Can't you see? Every step I have taken since I was that little girl on the bridge, was to bring me closer to you." — Memoirs of a Geisha
"I want to tell you with my last breath that I have always loved you. I would rather be a ghost, drifting by your side as a condemned soul, than enter heaven without you. Because of your love, I will never be a lonely spirit." — Crouching Tiger, Hidden Dragon
"You should be kissed and often, and by someone who knows how." — Gone With the Wind
"It's like in that moment the whole universe existed just to bring us together." — Serendipity
"And it was as if our lives collided in an unbelievable exquisite mess." — Gareth Egan, The Chaos In-Between
"Death cannot stop true love. All it can do is delay it for a while." — The Princess Bride
"When they ask me what I liked the best, I'll tell them it was you." — City of Angels
"You are the one girl that made me risk everything for a future worth having." — Simone Elkeles, Perfect Chemistry
"But love, I've come to understand, is more than three words mumbled before bedtime. Love is sustained by action, a pattern of devotion in the things we do for each other every day." — Nicholas Sparks, The Wedding
"I vow to fiercely love you in all your forms, now and forever. I promise to never forget that this is a once in a lifetime love." — The Vow
"It seems right now that all I've ever done in my life is making my way here to you." — Bridges of Madison County
"In vain have I struggled. It will not do. My feelings will not be repressed. You must allow me to tell you how ardently I admire and love you." — Jane Austen, Pride And Prejudice
"For thousands of nights I dreamed of making love to you. No man on earth has ever hated sunrise as I do." — Lisa Kleypas, Again the Magic
"I love you. I am who I am because of you. You are every reason, every hope, and every dream I've ever had, and no matter what happens to us in the future, every day we are together is the greatest day of my life. I will always be yours." — Nicholas Sparks, The Notebook
"I know there may be universes out there where I made different choices, and they led me somewhere else, led me to someone else. And my heart breaks for every single version of me that didn't end up with you." — Taylor Jenkins Reid, Maybe in Another Life
"But the you who you are tonight is the same you I was in love with yesterday. The same you I'll be in love with tomorrow." — Gayle Forman, If I Stay
"Love is always bestowed as a gift – freely, willingly and without expectation. We don't love to be loved; we love to love." — Leo Buscaglia
"Love isn't something you find. Love is something that finds you." — Loretta Young
"Sir, I love you more than words can wield the matter; dearer than eye-sight, space, and liberty, beyond what can be valued, rich or rare; no less than life, with grace, health, beauty, honor; as much as child e'er loved, or father found; a love that makes breath poor, and speech unable; beyond all manner of so much I love you." — Shakespeare
"As he read, I fell in love the way you fall asleep: slowly, and then all at once." — John Green
Best Love Quotes For Her From Songs
"You're always the first and the last thing on this heart of mine. No matter where I go, or what I do, I'm thinking of you." — Dierks Bentley, "Thinking of You"
"I hope you don't mind that I put down in words, how wonderful life is while you're in the world." — Elton John, "Your Song"
"I don't wanna close my eyes, I don't wanna fall asleep, cuz I'd miss you babe and I don't wanna miss a thing." — Aerosmith, "Don't Wanna Miss a Thing"
"If I was your boyfriend, I'd never let you go. Keep you on my arm girl, you'd never be alone." — Justin Bieber, "Boyfriend"
"I promise you,
From the bottom of my heart… I will love you, Til' death do us part… As a lover and a friend, I will love you like I never love again." — Backstreet Boys, "I Promise You"
"I can be your hero, baby
I can kiss away the pain… I will stand by you forever You can take my breath away." — Enrique Iglesias, "Hero"
"When I see your face
There's not a thing that I would change 'Cause you're amazing Just the way you are." — Bruno Mars, "Just the Way You Are"
"I need you like a heart needs a beat." — One Republic, "Apologize"
"I just called to say I love you
I just called to say how much I care I just called to say I love you And I mean it from the bottom of my heart." — Stevie Wonder, "I Just Called to Say I Love You"
"I thought love wasn't meant to last,
I thought you were just passing through If I ever get the nerve to ask What did I get right to deserve somebody like you?" — Jamie Lawson, "Wasn't Expecting That"
"I promise that I'll hold you when it's cold out
When we lose our winter coats in the spring 'Cause lately I was thinking I never told you That every time I see you my heart sings." — Gavin James, "Nervous"
"I want to stand with you on a mountain
I want to bathe with you in the sea I want to lay like this forever Until the sky falls down on me" — Savage Garden, "Truly Madly Deeply"
"I'm so in love with you
And I hope you know Darling, your love is more than worth its weight in gold We've come so far, my dear Look how we've grown And I wanna stay with you until we're grey and old Just say you won't let go." — James Arthur, "Say You Won't Let Go"
"You're my downfall, you're my muse. My worst distraction, my rhythm, and blues I can't stop singing, it's ringing, in my head for you." — John Legend, "All of Me"
"You think you're one of millions, but you're one in a million to me." — Brad Paisley, "The World"
"You're the closest to heaven, that I'll ever be." — Goo Goo Dolls
Best Crazy in Love Quotes
"Cause your love's got the best of me
And, baby, you're making a fool of me You got me sprung, and I don't care who sees, 'Cause, baby, you got me, you got me so crazy, baby." — Beyoncé
"I don't want to live — I want to love first and live, incidentally." — Zelda Fitzgerald
"Hey, I just met you, and this is crazy.
But here's my number, so call me, maybe." — Carly Rae Jepsen
"Anyone who knew me then would say I loved you far too much. Like a wildfire or the sharp edge of a knife." — Lang Leav
"I can hear her heartbeat for a thousand miles
And the heavens open every time she smiles And when I come to her, that's where I belong Yet I'm running to her like a river's song She gives me love, love, love, love, crazy love." — Van Morrison
"I love you much (most beautiful darling) more than anyone on the earth, and I like you better than everything in the sky." — E.E. Cummings
"Look at me that way again, and you may just claim what's left of my heart." — William C. Hannan
"Let's spend the rest of our lives together." — Engaged people
"I love you everywhere and anywhere, inside and outside and outside and inside, top to bottom and bottom to top." — Unknown
"A sea of whiskey couldn't intoxicate me as much as a drop of you." — Unknown
"Take a lover who looks at you like maybe you are magic." — Frida Kahlo
"I had to let you know how much I love you and how much my heart cherishes you. The emotion your presence creates in my heart is beautiful. I'm crazy about you, and I want you always to remember that. My love remains for you, my sweetheart." — Unknown
"You are the finest, loveliest, tenderest, and most beautiful person I have ever known — and even that is an understatement." — F. Scott Fitzgerald
"I love you enough to wear my nighttime mouth guard in front of you." — Unknown
"Well, love is insanity. The ancient Greeks knew that. It is the taking over of a rational and lucid mind by delusion and self-destruction. You lose yourself, you have no power over yourself, you can't even think straight." — Marilyn French
"She's like the wind." — Patrick Swayze
"I was never really insane except upon occasions when my heart was touched." — Edgar Allen Poe
"Sometimes you make me want to build a model of the Eiffel Tower out of Belgian waffles." — "Weird Al" Yankovic
"Every lover is crazy." — Roman proverb
"Lovers and madmen have such seething brains; such shaping fantasies, that apprehend; more than cool reason ever comprehends. The lunatic, the lover, and the poet are of imagination all compact." — William Shakespeare
"I'll love you more every day because my heart doesn't pump blood any longer to my veins. All it does is to love you more than it did yesterday and will love you more tomorrow more than it did today. I can't believe I'm in love with you. It's the craziest feeling ever." — Unknown
"I say if you love something, set it in a small cage and pester and smother it with love until it either loves you back or dies." — Mindy Kaling
"I don't need a boyfriend to be happy. If I meet someone and I want to be with him, then I will be. I'm very confident in being single until I find someone who I'm extremely crazy about and who I want to devote my time and love to. Until then, I will just be on my own, and I am totally fine with that." — Nina Dobrev
"Love: A temporary insanity curable by marriage." — Ambrose Bierce
"Your love creates riots in my head. I try to think of words to say, how to explain it, and not being misinterpreted. I try to learn new stuff, baby. I felt I knew how to love till I met you. Now I know that I'm a beginner in the game of love." — Unknown
"Whenever someone asks me to define love, I usually think for a minute, then I spin around and pin the guy's arm behind his back. Now who's asking the questions?" — Jack Handy
"I'm crazy nuts about this guy!" — Dorothy Zbornak
"Love doesn't make the world go round. Love is what makes the ride worthwhile." — Franklin P. Jones
"Love is being stupid together." — Paul Valery
"There is always some madness in love. But there is also always some reason in madness." — Friedrich Nietzsche
"You put up walls so high that only the crazy would climb them to be with you. Well, here I am." — K.K. Meade
This article was originally published on