'Love Under Lockdown' Is An Inside Peek At Folks' Love Lives During The Pandemic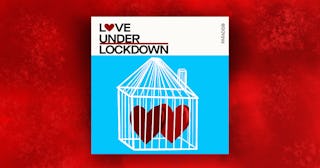 Scary Mommy and Paradiso U.S.
It's no secret 2020 has been a boat of shit in every possible way. Even though this pandemic started at the beginning of the year, and we are nearing the end of the year, I think it's fair to say most of us haven't adjusted much—this shit is hard.
There's so much uncertainty, we are all trying to take it one breath at a time, and no one knows what's next.
For many people, that means their love life has been turned and twisted into something they might not recognize.
You can be with the love of your life and not be able to stand hearing them take one more conference call (and if they take one more bite of anything crunchy, God rest their soul).
Maybe your relationship was balancing on a tightrope, and this pandemic either bonded you back together or threw you off the edge.
Either way, we are not wired to be with one person 24/7, nor are we comfortable spending weeks upon weeks alone without human touch or conversation.
Whether you are coupled, single, or have no idea what's going on in your romantic life, "Love Under Lockdown" is a podcast you must listen to.
Let's face it, we all like to hear other people spill the tea about their life for many reasons. It normalizes feelings and experiences, which makes us feel less alone. So, put in those ear buds and listen to couples and single people talk about the different experiences they've had in this very unnatural time.
The Podcast series, created by Jeanne Boëzec and produced by Pallavi Kottamasu, can be found on all podcast platforms with weekly episodes.
Scary Mommy talked with Emi Norris, the Executive Producer of "Love Under Lockdown" and Managing Director of Paradiso U.S. (the studio that produced the podcast), via email.
Norris explained how Paradiso had launched its LA office just days before the whole city, and much of the world, went under some form of lockdown.
"It was daunting to say the least. We knew that as a podcast production company we were better-positioned than most to adapt to a socially distanced world, and were energized by the challenge," she says.
However, Norris was struggling like the rest of the world who was up against an unknown future. "I found myself having to get a business off the ground while also caring for my young toddler without the usual support systems, which put enormous strain on my relationship," she says.
Norris didn't let it stop her, though. She knew everyone across the globe had to be "facing down the same beast, which, if you think about it — is kind of incredible and unprecedented," she says.
Norris wanted to see how others were coping, and she figured that if she did, so would other people. "As storytellers, we were driven by curiosity about how others were coping and the intimacy that only audio affords to tell these stories," she says.
Norris knew that not everyone was having the exact same experience that she was, so diversity was key to the podcast. "It was really important to us to find couples who would reflect the population as a whole. We looked for diversity in both background (age, ethnicity, profession, sexual orientation) and relationship status (married/engaged, newly dating, broken up, kids/no kids)."
Paradiso U.S. worked hard to source couples and singles who would represent many different situations and circumstances and says, "We were so fortunate to find couples who were also incredibly open, articulate and self-aware."
Mission accomplished.
Without giving too much away, I was able to have an early listen to the first few episodes (number 2 is my favorite so far, but don't skip any of them!) and found so much comfort in just listening to real people tell their personal stories about how they're coping with this difficult situation we are all trying to muddle through.
"Love Under Lockdown" is insightful, funny, and unpredictable. Each episode is different and has great tips on getting through this time, whether you're dating, ending a relationship, or want to stay in yours.
We are all going through this, and our relationships are being affected for sure. So why not listen up and hear others who are brave enough to tell their stories? I promise, you won't regret it.