Macy's Thanksgiving Day Parade Won't Be Live This Year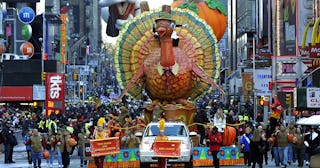 TIMOTHY A. CLARY/AFP/Getty
The coronavirus pandemic has claimed another beloved live tradition: Macy's Thanksgiving Day Parade
We may be in the homestretch of 2020 now, but that doesn't mean the no-good, terrible, awful, unfortunate events of the year are over yet. There's still time left on the calendar, and 2020 clearly intends to cast a pall over as much as possible. Case in point? Macy's and the city of New York just announced that, for the first time in history, the classic Macy's Thanksgiving Day Parade will not be live. Like so many other events amid the coronavirus pandemic, it's going virtual.
"For the first time in its more than 90-year history, the annual Macy's Parade will be modified to safely bring the magic to more than 50 million viewers nationwide on Thanksgiving Day, while maintaining all of the spectacle and wonder of this cherished holiday tradition," Macy's stated in a press release. "This year, the celebration will shift to a television only special presentation, showcasing the Macy's Parade's signature mix of giant character helium balloons, fantastic floats, street performers, clowns and heralding the arrival of the holiday season with the one-and-only Santa Claus."
If you're anything like us, your holiday traditions include kicking off the season each cozied up in front of the TV to watch the parade. So, what exactly will that look like this year?
For nearly 100 years, the event has been televised live, following a 2.5-mile route that begins near Central Park. This year, though, that route won't be used. Instead, performances and floats will be set up in front of the landmark midtown Macy's Herald Square store. The floats will be secured by "specially rigged" vehicles, as opposed to people holding the ropes. Out-of-state marching bands will be pushed to 2021 (here's hoping) in favor of local musical performers.
Accordingly, the total number of participants will be reduced by 75 percent — with those participating following strict social distancing guidelines and wearing face masks. Also, no participants will be under 18 years of age this year.
The customary Wednesday balloon inflating event will not take place.
New York's Mayor de Blasio addressed the changes on Monday. "It will not be the same parade we are used to. It will be a different kind of event. They're reinventing for this moment in history," he said during a press conference. He continued, "We know this city's come a long way, and we're also going to be smart and cautious with every step we take… to make sure we come back, but we come back safely."
And hey, at least we're getting a parade this year at all. During World War II in 1942, 1943, and 1944, organizers canceled the parade entirely. Besides, as much as we'd love to tune in to the traditional live parade, it's far more important to keep people safe and healthy in the face of the novel coronavirus.
The 94th Annual Macy's Thanksgiving Day Parade ("reimagined" for 2020) will air nationwide on NBC on Thursday, Nov. 26 from 9 a.m. to noon.