A DIY Water Blob And Other Fun Water Activities To Keep The Kids Busy And Cool
by Katie Cloyd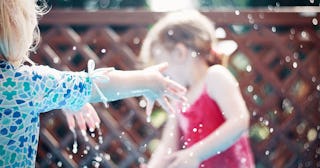 Jelleke Vanooteghem/Unsplash
It's seventy bajillion degrees outside, and water parks and splash pads are a no-go. Even if they're open, we aren't exactly supposed to be turning our kids loose to frolic with throngs of strangers right now. Pandemic summers are a freaking challenge, folks. But they don't have to suck!
If you're like me, you may be wracking your brain for ways to keep your kids cool so they can leave you alone for five minutes play outside comfortably in this heat. If you have a pool, this might be a no-brainer, but for families like mine without a backyard pool, the boredom struggle has been real. Finding cheap water activities has been a must. We are about sick of this pandemic over here, but this is life right now, and we are making it work.
If you're looking for some outdoor water activities, Scary Mommy's got you covered. We've rounded up a few fun ideas that will keep your kids cool and busy and won't cost an arm and a leg. Slather on your favorite sunscreen, fill up the water bottles and send your kids outside to enjoy some wet and wild summer fun.
Make a DIY water blob!
Y'all! This is so ridiculously simple! You start with some thick plastic sheeting, a few rolls of duct tape, and your very own hose, and you end up with a really cool water blob in your own back yard! I showed this one from The Clumsy Crafter to my husband and he has assured me that we will own one of these before the end of the weekend. There are lots of tutorials for these online, and every single person seems to have so much fun!
Throw some water beads in there to up the wow factor, you've got yourself a party.
https://www.instagram.com/p/B_GVKI8Az2u/
Gather up some pool noodles and PVC pipes and build a "kid wash."
How adorable is this pool-noodle creation? If you're extra creative and good at some simple engineering, your kids can enjoy this super cool sprinkler-type apparatus all summer long. They can ride through on bikes and trikes, or take turns dragging each other through in wagons. If your kid is interested in entrepreneurship, they can even set up a place to "pay" before they go through or sell monthly memberships to their siblings. I admit this one takes a little extra money, time and work, but if you're up for it, this is one of those water activities that your kids might remember forever.
Set up a toy wash in the backyard.
If constructing an entire PVC structure for your kids isn't your thing, how about setting up an old-school toy wash? A few big sponges, and a bucket full of soapy water is all you need. Just a few squirts of a mild, tear-free soap in a big bucket will do the trick! Line up all your bikes, cozy coupes, Power Wheels and outside toys, and take turns soaping everything up. When you're done, rinse the toys (and yourselves) off with the hose. If your kids are big enough, you can even let them use a soft sponge to wipe down your car. You can even run a bubble machine to add to the soapy, sudsy fun!
Try this creative take on water balloons.
Who doesn't love water balloons? Moms. That's who. Filling those dang things takes forever. Even the fancy connected cluster kind with the straw-based filling system leave behind the tiny bits of rubbery balloon shreds. They're choking hazards for little ones, not awesome for the environment, and an overall pain in the butt to pick up.
A couple summers ago, my mother-in-law crocheted six balloon shapes out of a fluffy yarn. My kids toss them in their water table, get them nice and saturated, and then they have fun throwing those bad boys at each other for hours.
If you don't want to knit or crochet balloons, try sponges! Any kind! Cut them into various sizes or shapes, toss them in a bucket of water, and bam! Water balloon fun without the latex mess.
Consider letting your kids create a mud pit.
I know, I know. Hear me out. We have a swing set. A play house. A water table. A wagon. A hundred thousand toys. Outdoor cars. Bikes. Picnic tables. You name it, I've searched for a deal, and shoved it in my yard to entertain my kids.
But their favorite thing in my entire yard is the mud pit I've allowed them to create under my deck. As far as water activities go, this one is very low maintenance and basically free. Gotta love that!
Mud pits are the coolest. Kids can bury toys to play archeologist. Make mud pies. They can search for earthworms, and even just experiment with how it feels to be very, very dirty. Since ours is under the deck, our mud puddle is also a nice place to escape the heat of the sun. And if we let it dry up, it just takes a few minutes with the hose or a heavy rain to reinvigorate their favorite backyard oasis.
Grab a cool sprinkler for less than $20 on Amazon.
If you're literally past the point of contributing one more moment of brain power to entertaining your kids or directing organized water actvities, I totally get it. Try one of these super affordable sprinklers. My seven-year-old can attach ours to the hose without any trouble. Remind your kid to run the water for a minute so it's nice and cool before it hits anyone's skin, and send them outside to enjoy the spray.
Don't forget the rain!
There's one way to play outdoors in the water than won't cost you one red cent, or take even a minute of prep: Rain! Next time the sky opens up, send the kids outside. Of course, watch closely to make sure it's not a dangerous storm, and heed any local warnings about lightning and high winds. But a regular, everyday rain shower is the perfect time to play outside. Throw on some cute rain boots or add a fun umbrella, and a rain shower can double as a cute photo opportunity.
https://www.instagram.com/p/CCvh7-Cnn69/
Summer 2020 just isn't like the rest. With limited options for out-of-the house events, our kids are getting pretty restless. These simple water activities are an easy way to give our kids some of the wholesome, low-tech memories we all enjoyed when we were kids. If we can try to make ourselves think of this summer as an opportunity for some throwback fun, we might just be able to get out of it with some pretty cool memories.
This article was originally published on