3 Ways To Make Sunscreen An Easy Part Of Your Skincare Routine
by Team Scary Mommy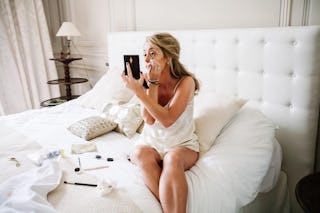 Applying sunscreen on our kids should come with prize money. After all, it's kind of like a sport — with its obstacle course of squirming limbs and defensive line of tears and bargains. There's never a need to actually pay for a gym membership when you have a tiny human and harmful rays to block.
But what about our own mom bods and lady faces? When it's crunch time, we let it go. Because we're jammed up in hallways, just trying to get through doors or telling our kids to STOP as they hit the ground running.
Plus, we have some requirements — that sunscreen can't be gross and greasy, it shouldn't smell like science, and it definitely can't clog our pores. This means we're looking for a multitasking sunscreen that applies fast, has some kind of dual action going, and protects our skin without destroying the environment. You know, basically the Mother of All Sunscreens.
Stick It To Ya
If you're anything like me then you're loving stick skincare products. From face wash to moisturizer, sticks have been having an extended moment. I adore skincare sticks because they make traveling so much easier — they take up less room and, with no pump, it's not like you're going to find a liquid explosion all over your clothes. Plus, and I don't know how they do this, skincare sticks seem to make everything go faster.
In the past, I skipped sunscreen sticks. I didn't see the value in adding yet another layering product into my skincare routine. I have 10 minutes each day, and it's so important that each product I use doubles as something else. But most of the foundations with sunscreen I've found have limited SPF coverage, and tinted moisturizers with SPF are far too expensive. "Why," I asked the skincare goddesses, "is sunscreen and foundation in a stick so hard to pull off?!" We have flip sequins and burgers made of vegetables that taste like the real thing, WE CAN DO THIS.
Multitasking Like A Motha'
Earth Mama has done it y'all, they went ahead and cracked the code creating not only a tinted mineral sunscreen stick that's safe for pregnant women and our oceans but also a sunscreen + foundation stick that's affordable. And check this out: the tinted titanium dioxide in Lady Face may also block ghastly blue light from our computer screens — there's some evidence that blue light might be contributing to increased redness and pigmentation in our skin. Lady Face, honestly, I bow down.
Earth Mama's Lady Face tinted sunscreen stick comes in two buildable shades: Light/Medium and Medium/Dark tint. Both are sheer enough to use on a range of skin tones, and yet they're also buildable for custom coverage (think contouring with a sunscreen stick) to target blemishes. Lady Face is made with premium skin-loving ingredients like moisturizing organic shea and cocoa butter, and comes with an eye-popping and much appreciated 40 SPF. Plus, Lady Face is free of toxic chemicals, which means it's reef and breastfeeding safe.
Yes, You've Got Time For That
There's so much to love about Earth Mama's Lady Face, but I'll start with how much time and space it's saved me. As a 3-in-1 product, Lady Face meant I wasn't dragging my own product weight around on a recent vacation — I was able to swipe and go. And, I wasn't constantly thinking and saying to my fam, "I feel like I'm forgetting something." Which is the slowest of tortures until you realize what it is, and then you just go ahead and live through the pain of loss. Thank you for saving me from that nightmare, Lady Face.
But my absolute favorite thing about Lady Face is the buildable formula. This tinted sunscreen works when I need to pick up my kids, and I'm committed to my loungewear but not committed enough to look like a scrub.
It's a fine line, folks.
We're never going to get that prize money we so rightfully deserve for medaling in tiny-human sunscreen application. Now, though, we'll have more than protected palms. We have a full-on protected lady face. Eat it, sun.
Earth Mama Organics believes that mamas need one another because we're all in this together. Lady Face is a new multi-purpose, sheer and blendable sunscreen stick safe for reefs, breastfeeding moms, and everyone else just trying to get out the door already.
This article was originally published on