Grab Your BFFs For A Sleepover: 'Mall Madness' Is Coming Back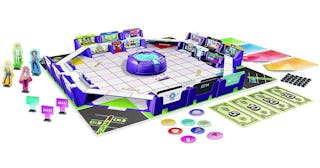 Amazon
Mall Madness will introduce a new generation to the joys of virtual mall shopping
If you're of a certain age, you're going to want to sit down for a moment to hear this news. The beloved Mall Madness board game played during sleepovers everywhere in the '90s is making a comeback this fall. No, this is not a drill.
Hasbro is bringing back the nostalgic game 15 years after it left shelves in its original version (there were special-edition Hannah Montana and Littlest Pet Shop versions too) and fans are dusting off their old food tokens in anticipation. If you don't know Mall Madness, the game required you be the first shopper to get all the items on your shopping list and it talked to you throughout the process. In a childhood before cell phones and Alexa, getting to swipe that pretend credit card was a major deal.
"In the original Mall Madness – as well as the new edition – the game is centered around the exciting experience of going on a shopping spree with friends," Julien McCluney, Hasbro VP Global Brand Strategy & Marketing, tells Bustle. "The fact that so many adults reminisce about the original [game] more than 30 years after its initial release speaks volumes to its place in pop culture!"
The game board had 22 different stores on two levels, and stores with pithy names like "I.M. Coughin Drug Store," "2 Left Feet Shoes," "Novel Idea Books," and "Fork It Over Kitchen Store," and you could even buy a slice at "Aunt Chovie's Pizza" with your fake money. When your credit card maxed out, all you needed to do was get to the closest ATM on the board to get more money. Boom. Budget crisis over.
If you're worried the new version won't live up to the original, have no fear. "While the look and feel of the mall in 2020 has changed, many of the game's core elements remain the same," McCluney said, though the store-fronts will be brought into this decade. "In the new edition, players will get to choose a personality and play as Gwen, Sage, Avery, or Dax while in the original game, the pawns were different colors."
The board game, which will be available on October 1, will be sold online and at most major retailers (because they have to represent at an actual mall) for $24.99. It can be played by two to four people and is suitable for ages nine and up. If you simply can't wait that long, you can pre-order it on Amazon now, so you don't even need to mark your calendar.
Your technology-advanced kids may not know the sheer joy that came from shopping in an actual mall, but now a new generation can be introduced to the iconic game that made many of us the compulsive, competitive shoppers we are today.
This article was originally published on