Man Dies After Taking Drug He Thought Would Protect Him From Coronavirus
by Cassandra Stone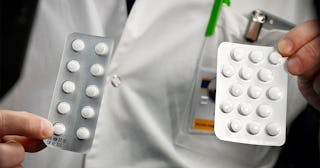 GERARD JULIEN/Getty
The man's wife is now critically ill after taking the same 'coronavirus medication' as her husband
An Arizona man has died after taking chloroquine phosphate, an additive used to clean fish tanks that is also found in an anti-malaria medication that Trump has been touting as a "treatment" for the coronavirus. His wife, who also ingested the additive, is now in critical condition.
Phoenix-based Banner Health says that the couple became sick within a half-hour of taking the additive. When he arrived at the hospital, the man couldn't be resuscitated. His wife was able to throw up most of the chemical.
During a news conference last week, Trump lied to the American public and said that the Food and Drug Administration had "just approved" the use of the "anti-malaria medication called chloronique" to treat patients infected with COVID-19.
The FDA chief clarified that the drug still needs to be tested as a potential treatment, but Trump barreled right over the expert's warning and continued to tout the drug as a cure.
Dr. Anthony Fauci, the nation's top infectious disease expert who has been appearing alongside Trump during the pandemic update briefings, corrected Trump about using the additives, saying that information is "anecdotal" and that currently, there is zero evidence that suggests it's effective for COVID-19 patients.
That didn't stop the president from continuing to lie about the drug on Twitter.
According to NBC News, the name "chloronique" clicked with the man's now-widow, because she used it to treat her koi fish.
"I saw it sitting on the back shelf and thought, 'Hey, isn't that the stuff they're talking about on TV?'"
She and her husband decided to mix a small amount of the substance with a liquid and drink it as a way to prevent the coronavirus, after listening to Trump's press conference.
"We were afraid of getting sick," she says. Within 20 minutes, she and her husband both began to feel sick. "I started vomiting," she describes. "My husband started developing respiratory problems and wanted to hold my hand."
"Given the uncertainty around COVID-19, we understand that people are trying to find new ways to prevent or treat this virus, but self-medicating is not the way to do so. The last thing that we want right now is to inundate our emergency departments with patients who believe they found a vague and risky solution that could potentially jeopardize their health," said Dr. Daniel Brooks, the medical director for Banner Poison and Drug Information Center.
In a recorded interview with NBC News Vaughn Hillyard, the heartbroken woman reiterated that she and her husband only took the medication because Trump "kept saying it was basically a cure."
She's now warning the American public against taking the president's dangerous advice so no one else ends up dying as a direct result of following his recommendations.
"Oh my God. Don't take anything. Don't believe anything," she says. "Don't believe anything that the President says & his people…call your doctor."
This article was originally published on