Man Surprises Girlfriend, Includes Her Daughter In Proposal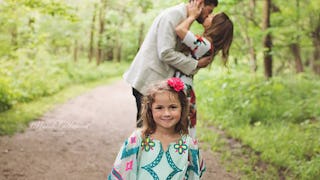 What a perfect way to show this little girl what it means to be a family
When you marry someone with a child, you are pledging yourself to that child as fully as you are pledging yourself to your partner. One Indiana man understood just that and decided to include her in his proposal to show both of them just what that commitment meant to him.
On May 27, Grant Tribbett, along with his now-fiancée Cassandra Reschar and her five year old daughter, Adrianna, stopped for breakfast at their local Cracker Barrel. Then Tribbett took them out to a nearby spot on a bridge inside Ritchey Woods Nature Preserve in Fishers, Indiana.
And that's where his friend, photographer Mandi Gilliland, was waiting. Tribbett told ABC News he "came up with a plan for her to hide out in the woods right by the bridge about 30 minutes before we would arrive the next day." From there, Gilliland was able to capture the beautiful moment.
Tribbett told Scary Mommy he and Reschar had been dating about seven months when he decided to pop the question.
"I knew that not only was I asking Cassandra for her hand in marriage but also to be a daddy for her daughter for the rest of our lives," Tribbett told Scary Mommy. "So I wanted to include Adrianna and make it special for her. And ask her if it was okay that I become her daddy."
After Reschar said a big "yes" to Tribbett's proposal, he bent down on one knee with a heart-shaped necklace and asked her daughter Adrianna "if I could be her daddy and that I promised to love and protect her always," Tribbett told ABC News.
Reschar said when that happened she began "crying, and not the cute kind of crying either."
It just took my breath away," she said. "It's been a long time coming for her. It's just every prayer that I've had since she was little that I could find someone who loved her just as much."
When my now-husband and I got married seven years ago, both of my children from a previous marriage stood right between us at the ceremony. My husband included them in his vows, promising to love them as his own. Marrying someone with children is not easy. It takes a certain kind of person to commit to that relationship. My husband could see how hard it was to raise children and opted in anyway, not despite all of it he said, but because of it.
"I knew proposing to Cassandra [meant] that I also would be committing to a lifetime of fatherhood. So what better way to ask the love of my life to marry me than to ask her beloved daughter to get the honor to be her daddy?"
This article was originally published on