Get Yourself A BFF Who Adores You Like Mandy Moore Adores Chrissy Metz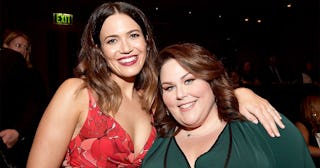 Matt Winkelmeyer/Getty
Is there any friend as good as Mandy Moore? This sweet birthday message to Chrissy Metz says no
Mandy Moore is having a heck of a few years. Her series This Is Us is one of the most popular shows on TV, making household names out of her and all her co-stars. She just revealed she's expecting her first baby with her husband, Taylor Goldsmith. And she knows that a lot of what's going right in her life these days would be impossible without the people around her, so for co-star Chrissy Metz's birthday earlier this week, Moore wrote an absolutely heartwarming tribute to her friend on social media.
Metz turned 40 on Tuesday, and Moore marked the occasion by posting a series of fire photos of the actor (including several of her slaying the red carpet alongside her This Is Us co-stars) and a sweet, touching tribute.
"Happy Birthday, @chrissymetz," she wrote. "To know you is to love you. You are an absolute beam of light in this world and I'm so grateful that the #thisisus journey brought us into one another's orbit."
https://www.instagram.com/p/CFud0uAgl2T/?igshid=7i1kfjs5yfrt
Moore continued, "Watching the world collectively fall in love with all that you are (singer-songwriter, author, podcast host, etc…) over these last few years has been such an immense joy. I can't wait to see what you do with this next chapter in life. Love you, Mitzy!! Can't wait to social-distance squeeze you soon!! Xoxoxo."
So, um, where do I sign up to have Mandy Moore write me a birthday message? Because I don't personally know either of these people, and that tribute was so sweet it brought tears to my eyes.
It's no wonder that Moore and Metz have gotten close. They've been working together on This Is Us since 2016. The show is now about to enter its fifth season, and the cast have been by each other's sides through a whole lot of ups and downs in the world: The Trump presidency, escalating racial tension across the U.S., and the coronavirus pandemic, just to name a few. Many of these tough world events have been addressed on the show, which we can only imagine lends even more solemnity to an already heavy series. But it's clearly brought the cast even closer together, and if Moore's message to Metz is any indication, these co-stars have so much love and respect for one another.
Happy birthday, Chrissy Metz! And Mandy Moore, I was serious about that birthday message. Email me, thanks.