Mandy Moore Announces The Birth Of Her Son With Adorable Photo
by Madison Vanderberg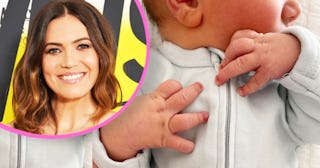 Mandy Moore/Instagram and Lester Cohen/Getty
Mandy Moore introduces the world to her son August Harrison Goldsmith
Mandy Moore and husband Taylor Goldsmith just welcomed their baby boy August Harrison Goldsmith and in an Instagram post announcing the good news, Moore revealed her new son's adorable nickname: Gus.
Grateful that her son's arrival was so "punctual" after lamenting on Instagram last week that she was "still waiting for this little man to make an appearance," Moore and Goldsmith shared the baby announcement on social.
"Gus is here," Moore wrote. "Our sweet boy, August Harrison Goldsmith. He was punctual and arrived right on his due date, much to the delight of his parents. We were prepared to fall in love in all sorts of brand new ways, but it goes beyond anything we could have ever imagined."
This is lovely news for Moore, who shared online back in February that her original birth plan had to be altered when her "platelets dropped exponentially during pregnancy." In an episode of Informed Pregnancy Podcast, she said she was planning for a home birth and was so excited about it, with her husband readying the playlist, but "unfortunately my plans have had to change."
"I initially was like, 'I got it, absolutely. I am malleable, I'm going to do whatever it takes for this baby,' and that is absolutely how I still feel," Moore shared on the podcast. "But the grieving process about my plan not unfolding the way that I had hoped actually, I felt this sort of delayed reaction. It was a couple of weeks afterward that it really sort of sunk in."
Moore announced her pregnancy news back in September 2020 and told Romper how delighted she was in those early days after first learning she was pregnant.
"The little things kind of get me. Like, I was online buying pacifiers yesterday and I just turned to my husband and I was like, It's real. There's going to be a little human that needs a pacifier," Moore said.
We're thrilled for Moore and Goldsmith and if Moore's recent interview with Informed Pregnancy Podcast is any indication, she could be announcing baby number two sooner rather than later.
"I have such a deeper appreciation for my body and the fact that us pregnant folks have the capability to do this. It's the coolest thing," she said. "I mean, I know that I joke with my husband already. We're not at the end of the rollercoaster ride yet, and like, I'll do this again. I'm so ready to do this again."
Congratulations and welcome to the world Gus!