Mariah Carey Says 'It's Time' For Christmas And TBH We're Here For It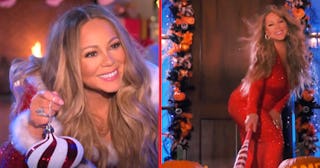 Mariah Carey/Instagram
Bust out the tree, lights, and ornaments — Mariah Carey just defrosted
Many people think the Christmas season should begin after Thanksgiving — on Black Friday, perhaps, as we officially kick off our shopping for the year. But I'm here to tell those people that it's not up to them. There is one official marker that tells us when to transition from Spooky Season to Christmas Season, and folks, it's time to swap your pumpkins for mistletoe, because she's back: The one and only Christmas Queen, Mariah Carey.
The woman who brought us the only Christmas song that's acceptable to play in a bar, "All I Want for Christmas Is You," has embraced her Christmas Queen title in recent years, and now lets us all know, via a video posted to her social media, when Christmas is to begin. And as usual, she's chosen today, Nov. 1, as the day. Carey posted her new video, which opens on an elaborate setting of Halloween decorations, including three jack-o-lanterns carved to read "It's Not Time."
The camera quickly cuts to a sparkling red high-heeled shoe — and someone swinging a red-and-white, peppermint striped baseball bat. Of course it is Mariah Carey, who, as the clock strikes 12, destroys the center pumpkin. As the twinkling opening notes to "All I Want for Christmas" play in the background, Mariah stands on top of her smashed pumpkin in between the two that remain, now reading, "It's Time."
Because it is. It is now Christmas time. Mariah Carey has decreed it and as we all know, she makes the rules. She has thawed from her yearly hibernation and is ready to help us usher in our tidings of comfort and joy. Amen.
Using "All I Want for Christmas Is You" to announce the start of the holiday season has become a little bit of a tradition for Carey over the last few years. Her videos are always adorable, and just what we all need to start getting into a festive mood. Especially going into our second pandemic Christmas, we'll take all the holiday cheer we can get, thank you very much. And Mariah Carey is more than willing to give it to us. Merry Christmas to the Queen, and to all of our readers. Go forth and decorate.