Mark Hamill Mocks Anti-Maskers In Read-Aloud Version Of Seuss-Like Kids' Book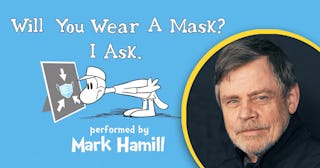 Mark Hamill/Twitter and Albert L. Ortega/Getty
The book is voiced by none other than Luke Skywalker himself, Mark Hamill
Actor Mark Hamill is best known for his role on Star Wars but now he's trying to save another universe — ours. The actor is voicing a new Dr. Seuss-style book written by Tom Ruegger with the goal of getting anti-maskers to take COVID-19 — and mask wearing — seriously.
The book is called "Will You Wear A Mask? I Ask," and follows two anthropomorphic creatures around while they spout conspiracy theories and lies about the pandemic that's taken the lives of over 486,000 Americans, according to the latest data from Johns Hopkins University.
Hamill introduced the book via social media, writing in part, "Think you've heard the lamest excuses for NOT wearing a mask? Get a load of THIS guy! This clip is from "Will You Wear A Mask? I Ask," he wrote. "All proceeds go to #WorldCentralKitchen to feed those in need!" He also linked to donate here.
In the book, the anti-masker wearing a red baseball cap spouts off a lot of "reasons" why he believes he doesn't need to wear a mask while he's out and about in public. "The COVID virus is a hoax/ Except for sickly old folks/ I'm immune!/ I read on Reddit!/ I'm healthy so I just can't get it," the book reads.
You'll recognize the arguments because you've likely heard them before from someone in your life who believes it's "their choice" whether to follow guidelines during a worldwide pandemic.
People are very much here for it:
https://twitter.com/jetpack/status/1361342546019045379
https://twitter.com/jetpack/status/1361373072641708033
The anti-masker claims the Constitution allows him not to wear a mask and the "straps on the mask are much too tight."
Hamill has been vocal about mask wearing since the pandemic began, even releasing a picture of himself over the summer in his Star Wars character, Luke Skywalker, wearing a Joker mask. Hamill, of course, has voiced the Joker in various animated DC projects since the early '90s.
Hamill is one of many celebrities to lend their platform to promote mask-wearing. Tom Hanks, Hugh Jackman, Bryce Dallas Howard, Jamie Lee Curtis, the cast of Agents of SHIELD, and many more have taken part because, well, it just makes sense.
"Masks are an additional step to help prevent people from getting and spreading COVID-19," states the CDC. "They provide a barrier that keeps respiratory droplets from spreading. Wear a mask and take every day preventive actions in public settings." They are one of many public entities to promote mask-wearing as one component of stopping the spread of the coronavirus.
The best part of the book (which is available on Amazon) is that its proceeds will be donated to World Central Kitchen, a charity that helps provide food for communities in need. Thank you Luke Skywalker for protecting us once again.
This article was originally published on