Marshall's Online Store Is Officially Live So Bye-Bye Paycheck
by Cassandra Stone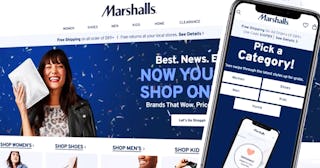 Marshalls
As if we could possibly love shopping at Marshalls even MORE, they made it easier for us all
Who doesn't love name-brand shopping at a discounted price? Especially at a store where you can get anything from the latest designer handbags to baby clothes for under $10, which are just a couple of the gems found at Marshalls on any given day. Now every mom's favorite one-stop-shop discount retailer has launched its online store, and, well, sorry to our paychecks.
Marshalls.com offers very similar items to what you'd find in-store — clothes for people of all ages, beauty products, accessories, home decor, and kitchen items.
But just like each Marshalls brick and mortar store, Marshalls.com will offer its own unique mix of items. Which is exactly why we love it.
"We are thrilled to introduce Marshalls.com, which allows customers to shop Marshalls anytime," says Mark DeOliveira, Executive Vice President, TJX Digital US, in a press release. "This site will feature a unique assortment of the brands and values that Marshalls is known for, and also offer customers the ability to shop through fun, interactive features and curations. We are excited for customers to experience the brand in this new way."
Earlier this year when first making the website announcement, TJX Companies CEO Ernie Hermann explained the process. "We look at it as complementary," he said. The chain is also taking cues from sister brand TJ Maxx.
"We have learned a lot from TJMaxx.com," Herrman said. "We really believe it drives incremental store traffic given large percentage of returns online is in stores. It is going to encourage cross-shopping. That has worked really well for us." TJMaxx is honestly just as amazing, if we're being honest — we don't discriminate, we love all types of quality discount shopping.
According to the press release, Marshalls.com will offer users a unique shopping experience, including:
"Swipe to Shop": A gamified mobile shopping feature which allows shoppers to quickly view and sort product by swiping "left or right" to favorite items and buy or save for later.
Curated Shops: Online shops featuring the latest trends and must-haves, making it easy to discover crave-worthy merchandise. The site will launch with the Fall Style Shop, The Designer Shop and Made in Italy. Like the merchandise assortment, curated shops will also refresh frequently.
Influencer + Shopper Finds: Inspiration from influencer and consumer finds that will link shoppers to categories and similar products.
Oh, and if you're wondering how Marshalls online will handle customer item returns or exchanges, no worries — the process is smooth sailing. Online shoppers can return their purchases either via mail or at any one of Marshalls' more than 1,100 brick-and-mortar stores.
The only drawback to an online Marshalls experience is the fact that you can't technically stand in the candle aisle and sniff every single one until you settle on the perfect scent for seasonal ambiance. But you can shop without ever leaving your home or putting on a bra, so…win/win.
This article was originally published on