This Mashed Potato 'Volcano' Recipe From The 1940s Is Actually Amazing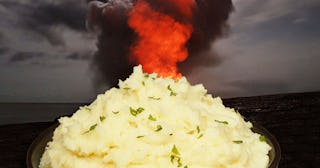 'Tis the season to make a buttload of food and stare into your refrigerator wondering what you are going to do with it all. If your family is anything like mine and automatically turns their noses up at leftovers, I am here to save the day with a recipe that's been around for a while and literally had my kids begging for more.
First, I must tell you I don't make mashed potatoes very often. By that I mean I make them once a year on Thanksgiving. I always make too many of course. Have you ever tried to make less of something and it seems to multiply on its own? Yeah, me too.
So, every year I try and find something to do with our leftover mash and every year I seem to fail.
Shepherd's pie had my kids throwing up in their mouths and I have to admit, I'm just not a fan of that either.
Then there was the year I made a batch of Needhams (also known as Maine potato candy). Since I'm from the state I grew up eating these candies, which are made with lots of sugar, mashed potatoes, and coconut. However, my family knew there were mashed potatoes in them and they couldn't get past that.
I finished them all myself, though, so it wasn't a total loss.
What I'm trying to say is, my three kids are tough critics. They aren't extremely picky, but picky enough that it annoys the hell out of me and I've given up trying to make them happy all the time.
When I came across this popular recipe on Reddit called the Potato Volcano, I read the ingredients and knew it would be the perfect thing to pair with our Friday night leftover turkey.
The first thing that caught my eye was how easy it was. The second was the fact it contained leftover mashed potatoes, cheese, butter, eggs, and bread crumbs.
I knew that was a combination all of my kids would like (and I would die for) so, what did I have to lose?
Upon looking in my fridge I saw I had all the cheeses: Cheddar, mozzarella, parmesan, feta, and American.
The recipe doesn't specify which cheese to use so I decided to go with cheddar because hello, that is hands down the best cheese ever invented. I also added some mozzarella for effect because I like how it melts. I knew when I served this volcano to my family they'd be impressed by the stretchy cheese strings. Also, it would probably make me feel like a master chef.
My mashed potatoes were really cold since they'd been in the refrigerator and I found that really helped shape them since you are essentially making a large mashed potato bowl to hold your cheese and butter.
I should also point out the recipe calls for eggs, but I omitted that because I have an egg allergy. Now, I've never made this before, but I don't think it affected the recipe at all.
After slathering my volcano with melted butter and topping with bread crumbs I popped it in the oven and my house smelled like an Italian restaurant (I used Italian style bread crumbs and they were the bomb. Or should I say the volcano?).
As I cut into it I was waiting for the cheesy lava to flow out and really stun my tough food critics, but it didn't happen. I will say the cheese was perfectly melted, though, and I used more than enough — so I'm not sure why my lava didn't leak out like I'd hoped.
I forgot about all that when I tasted this dish that literally got pulled out of my hands by my youngest son — he's my pickiest eater and I was surprised he even wanted to try it. Apparently the smell made him so hungry he ate most of it right off the hot pan with a fork.
Instead of serving this for dinner, it was our appetizer that didn't even make it off the cookie sheet.
I will definitely be making this again and I don't think it will wait until next year when I make mashed taters for Thanksgiving. I'll be heading to the store to get potatoes for this very reason.
It was warm, gooey, salty, and hearty — all the things I look for in a dish. I can still feel the warmth it brought to my belly.
If you are looking for something new to try, or have oodles of leftover mashed potatoes you must try this dish. It's easy, quick, and you probably have all the things you need on hand. It would pair perfectly with a nice steak, pork, chicken, or on its own.
This dish is a bit crunchy, has a lot of texture, and we all know everything is better with cheese. Screw plain ol' potatoes and make a potato volcano. Even the pickiest eaters will want to try.
You're welcome.
This article was originally published on