Biden's New CDC Director Says To 'Manage Our Expectations' About Masks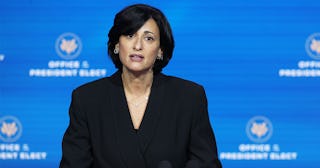 Chip Somodevilla/Getty
Joe Biden's new CDC director says we should manage expectations about mask wearing in 2021
Dr. Rochelle Walensky is the chief of infectious diseases at Massachusetts General Hospital and professor of medicine at Harvard Medical School, and next month she'll become the Director of the Centers for Disease Control under President-elect Joe Biden's administration and according to her, we need to manage our expectations when it comes to the vaccine and more specifically, mask-wearing in 2021.
The recent vaccine news is incredibly heartening and healthcare workers and individuals across the country have already started to receive the injections, but getting a vaccine is not the light-switch moment that many people might be expecting. Even with the vaccine, we will still be doing "pandemic-era precautions" like mask-wearing, for awhile longer according to Walensky.
In a video for Massachusetts General Hospital on the topic of the COVID-19 vaccine, Walensky says, "I think we should manage our expectations in terms of taking off our masks… over time we will be able to maybe one day not be in our masks anymore, but I have told my family I anticipate they'll be wearing a mask for the better part of '21."
I'm sure the news is disheartening for people who have been fixating on the idea of "returning to normal" but Fauci said the same thing a few months back, telling MSNBC that "by the time you mobilize the distribution of the vaccine and get a majority or more of the population vaccinated and protected, that's likely not going to happen until the end of 2021."
"If you're talking about getting back to a degree of normality prior to COVID, it's going to be well into 2021, towards the end of 2021," Fauci added.
Even the CEO of Moderna, whose vaccine will likely start being rolled out this month, said we need to stop thinking about the vaccine as a "silver bullet."
"We need public health measures…[they are] your best weapon" Moderna CEO Stéphane Bancel told Bloomberg News. And those public health measures include social distancing, good hand hygiene, and universal mask-wearing.
Dr. William Schaffner, a longtime adviser to the CDC on vaccines, acknowledges that Walensky's message won't be a wholly welcome one. "I know that's a hard sell, but I think it's a smart sell. It's a science-based sell, and we have to stick with that."
This isn't to rain on the parade of the recent vaccine rollouts, but like Walensky said, this news is meant to manage expectations. Meaning, your COVID vaccine isn't a passport to throw a giant, indoor maskless party, then again, people seem to be doing that already. So really, this news is for the science-minded crowd and what's so wrong with wearing masks a little longer than anticipated? Go buy a Schitt's Creek mask and stay safe (and stylish) out there.