Mattel's New Barbies Are Made From Recycled Ocean-Bound Plastic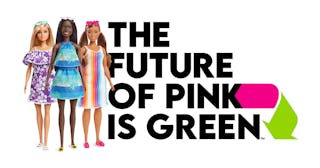 Mattel
Mattel just launched Barbie Loves the Ocean, the brand's first collection of dolls made from recycled ocean-bound plastic
As the creative force behind many of the most iconic toys of all time, Mattel is doing their part to help make Barbie and her pals not only more inclusive but to help protect the environment, too. The toy company is ramping up efforts to promote long-term sustainability with a goal of using 100% recycled, recyclable or bio-based plastic materials across all its products and packaging by 2030, kicking off their efforts with a new collection of dolls made from over 90% recycled ocean-bound plastic.
The new Barbie Loves the Ocean collection includes three dolls whose bodies are made from 90% recycled ocean-bound plastic parts, along with an accompanying Beach Shack play set and accessories, all of which are also made from over 90% recycled plastic. Ranging in price from $9.99-$19.99, the launch is part of Mattel's new The Future of Pink is Green campaign, which will help educate kids on the importance of sustainability in a digestible, easy-to-understand way.
Along with the three new dolls and their environmentally-friendly beach accessories, the brand dropped a new video as part of Barbie's popular YouTube vlogger series called Barbie Shares How We Can All Protect the Planet, a short animated clip that teaches young fans about the importance of taking care of the planet and offering everyday habit changes they can make to create an impact right from their own homes, such as unplugging devices when they're not in use, picking up and disposing of trash, and relying on reusable lunch boxes and water bottles.
"This Barbie launch is another addition to Mattel's growing portfolio of purpose-driven brands that inspire environmental consciousness with our consumer as a key focus," said Mattel's President and Chief Operating Officer Richard Dickson in a statement. "At Mattel, we empower the next generation to explore the wonder of childhood and reach their full potential. We take this responsibility seriously and are continuing to do our part to ensure kids can inherit a world that's full of potential, too."
"Our 62-year legacy is steeped in evolution, as we consistently drive forward initiatives designed to better reflect the world kids see around them," added Mattel's Senior Vice President and Global Head of Barbie & Dolls, Lisa McKnight. "Barbie Loves the Ocean is a prime example of sustainable innovations we'll make as part of creating a future environment where kids can thrive. We are passionate about leveraging the scope and reach of our global platform to inspire kids to be a part of the change they want to see in the world."
Shop the new Barbie Loves the Ocean collection here.
This article was originally published on