Matthew McConaughey Joined Instagram And His First Post Is Extremely Matthew McConaughey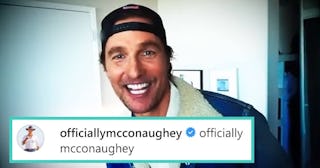 Matthew McConnaughey/Instagram
Matthew McConaughey officially blesses us all by joining Instagram
In celebration of his 50th birthday, actor Matthew McConaughey decided to give us even more of himself by joining Instagram and we are absolutely here for it. The self-described actor, husband, father, and "pickle expert" announced his arrival by shooting a one-minute video that you really have to see with your own eyeballs.
McConaughey, the voice we've known, loved, and fallen asleep to was as enthusiastic as ever but admitted he was a little nervous about the public platform. "This is my first venture into sharing myself and my views with the world," he said, "and I'm a little bit nervous about it."
The father-of-three packed a lot into his intro video, sharing his thoughts on the world as a whole, his views on social media, and why he chose now to become an even more public figure than his career has already provided. Throw in his signature southern charm, and the entire experience is one you should definitely take a minute out of your day to watch.
"I know I want to have a monologue. I'm not sure I want to have the dialogue," he said, talking about social media and the back-and-forth that often happens as a result (both for the good and the bad). "I've learned that you got to have the dialogue to have the monologue, just as you have to have a monologue to have the dialogue." Peak McConaughey.
The notorious philosopher, full-time professor, and family man draws you in with his voice (and his face isn't so bad to look at either). "I'm looking forward to seeing if who I am translates, if what I want to share translates, if it tickles your funny bone, if it makes you think a second, if it makes your heart swell up a little bit, if it makes you take a quiet moment for a walk and go, 'I got to check in with the M and the E.' Hopefully all those things," he says.
We love the Academy Award-winning actor for his philanthropy. He and wife Camila McConaughey founded the just keep livin Foundation, a nonprofit organization dedicated to empowering and educating high school students on the benefits of staying active and helping them make better decisions for their futures. He also recently teamed up with disaster relief organization Operation BBQ Relief to give thanks to first responders nationwide as part of Wild Turkey's "With Thanks" annual charitable giving campaign which prepared and delivered 800 turkey dinners to more than 20 firehouses of first responders battling the wildfires raging across Southern California. Hopefully, now that he's joined Instagram we can hear more about the good work he's doing in the world.
He sums things up in typical fashion, leaving us all walking away with a slightly different version of what it all meant. "Let's keep the high eye, not the low eye." Alright, Alright, Alright.
This article was originally published on