A 'Mean Girls' Pop-Up Is Coming, So Get In, Loser -- We're Eating Lunch
by Julie Scagell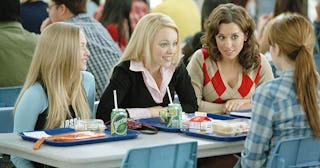 Paramount Pictures
This "Mean Girls" pop-up isn't like a regular pop-up, it's a cool pop-up
As if we need one more reason to visit California. Now, you can officially sit at the cool table because a Mean Girls pop-up restaurant is coming to Los Angeles this spring, and it's everything we thought it would be.
According to The Hollywood Reporter, the pop-up will officially be open from April 18 to May 31 in Santa Monica. Appropriately called "Fetch," you can find this gem at 1755 Ocean Avenue where you and all your BFF's (plastic or otherwise) can dine like the ladies of North Shore High, including carbs.
Tickets are selling for $45 which may seem high but it includes a three-course meal, plenty of photo ops, and you get to stay and hang for an hour-and-a-half. The menu is a classic, paying homage to some of the funniest and most cringe-worthy parts of the film, including, "Just Stab Caesar Salad," "Whatever Cheese Fries," Gretchen's Weiner Dog," and "All-Carb Diet Vodka Pasta." Obviously, you can also get dessert and choose from one of three options (please choose "Why Are You White Chocolate Mousse?").
Adult beverages will be available for purchase and include options like "Too Gay to Function Fishbowl" and the "Spiked Glen Coco," and the restaurant will also have swag to purchase that will aptly fit the scene.
If you can't get to Cali, no worries. Paramount is officially on board as a partner, so "Fetch" will be coming to New York this summer after wrapping in LA. You can buy tickets in advance online at Fetchpopup.com.
"Basically everything will be a photo op," Sarelyn Radecke, founder of Rixton, told The Hollywood Reporter last year. "Mean Girls is one of those movies that I think every girl who grew up in the '90s and early 2000s quotes at least probably five to 10 times per year. So it's looking at those moments and saying, 'What can we capture for this experience?'"
No word on the full dress code or operating hours but on Wednesdays, the dress code is pink (obvi).
Sixteen years after its original release, every fan has quoted this movie once, if not several times a week since we first watched it. It's held up through the generations because, if you went to a traditional high school, it's entirely relatable, hilarious, and still cringe-y enough to make us so, so happy we're not there anymore.
Regardless of whether you live in California or New York, you simply must try to get there for a visit. You just know there's going to be a Lindsay Lohan sighting at some point. Get in, loser.