Megan Rapinoe Tells Fellow Athletes To 'Lift Other People Up' In FIFA Acceptance Speech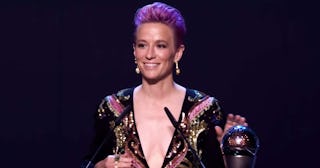 FIFATV/Youtube
Soccer star Megan Rapinoe wants everyone in the sport to use their platform for the greater good
Megan Rapinoe is known for her amazing soccer skills and her passion when it comes to speaking out on important issues. The phenom athlete just used her platform once again when she earned the title of FIFA's Best Women's Soccer Player of 2019 to share some important sentiments.
When Megan took the stage to accept her prestigious award — which named her the best women's soccer player in the world, NBD — she started off by thanking her friends, family, her girlfriend, and especially her teammates for "reeling" her in when she needed it. She also talked about how amazing it was to be a part of the World Cup and what an incredible year for soccer it has been.
But then she changed her tune to speak at length about the importance of activism. She spoke about the people in the sport are who are really inspiring her, not just with their passion for soccer, but the way they lend their voices to the greater good.
Megan talked about several activists who are really taking a stand on the issues that matter and how deeply the world needs them. She named the outspoken players who are fighting "disgusting racism" and "rampant homophobia." But then she also pointed out that what would be even more inspiring to her was if everyone was just as outraged as these players who are affected by those issues personally.
Rapinoe wants to see everyone fighting together for LGBTQ rights and equal pay. She urged those in the sport to use their own platforms for good, the way she so often does. "We have such an incredible opportunity… we have incredible platforms," she said, asking the athletes in the audience to do more. "Lend your platform to other people. Lift other people up. Share your success," she told them in her powerful speech.
Her point was well made because it's true that when the best players in the world speak out, we tune in and listen. She pointed to how her and her fellow soccer stars have a platform that shouldn't be wasted. "We have a unique opportunity in football different to any other sport in the world to use this beautiful game to actually change the world for the better."
It's wonderful to see Rapinoe continue to share her insights just about every chance she gets. She's a woman with an absolute passion for social good. She's now (officially) the best women's soccer player in the world, but her ability to inspire others might just be her biggest strength.