Victoria's Secret Just Made Megan Rapinoe A Brand Ambassador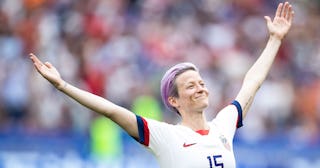 Maja Hitij/Getty
Megan Rapinoe is joining a group of new Victoria's Secret ambassadors who are known for what they've accomplished — not what their bodies look like
If I could choose anyone to invite to a dinner party at my house, hands down, Megan Rapinoe would make the short list. The captain of the U.S. Women's National soccer team is also a feminist icon, leading the team in a legal battle for equal pay for literally years now. She's also politically active, and outspoken about her progressive beliefs. In other words, she's a seriously interesting and accomplished person — and now she's also a Victoria's Secret model.
Victoria's secret has been battling some serious issues in the court of public opinion, including allegations of a toxic and misogynistic corporate culture, and revelations that its owner was close to Jeffrey Epstein. Now, the brand is attempting to completely overhaul its image, and its first step is ditching angels and hiring brand ambassadors based on their merits rather than their bodies. Those include Rapinoe, as well as Priyanka Chopra, Olympic skier Eileen Gu, inclusivity activist Paloma Elsesser, and others.
Reports say Victoria's Secret is trying to redefine what "sexy" means in the context of its brand. It's no secret that the lingerie store has long catered to men, rather than the women who are its customers. You need to look no further than the annual Victoria's Secret Fashion Show to see that — watching all the world's most famous supermodels walk a runway dressed in angel wings and "Fantasy" bras dripping with diamonds left no questions about whose gaze the show was meant for.
And in some of the online backlash over Rapinoe's new gig as an ambassador, that's made clear — the male tears are out in full display from men who are disgusted by her inclusion.
There are literally men out here complaining, publicly, that they don't like this because they don't want to masturbate to Rapinoe. That sound you hear? It's every woman on earth simultaneously retching.
But overall, the move has been met with happiness from women, the people VS should be trying to appeal to.
Will this rebrand mean that women actually buy Victoria's Secret? That remains to be seen — for a lot of us, VS has a long, uphill climb to earn back the respect of women shoppers. But this is certainly a step in the right direction.