Meghan Markle's New Netflix Show Is About A Time-Traveling 12-Year-Old Meghan Markle's New Netflix Show Is About A Time-Traveling 12-Year-Old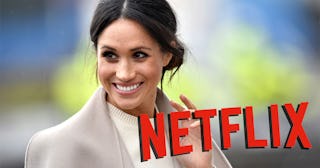 Charles McQuillan/Getty and Netflix
Meghan Markle will executive produce a new animated show called Pearl
Meghan Markle may have gotten her start as an actress, but she's going behind the scenes for her next T.V. venture. Meghan and Prince Harry's Archewell Productions is getting to work on an animated series called Pearl for Netflix. A statement announcing the news said the show "focuses on a young girl's heroic adventure as she learns to step into her power and finds inspiration from influential women throughout history."
It'll be interesting to see who the show spotlights — there are quite a few influential women to choose from right in their own family tree — but um… you might have heard a little something about some ugly family drama.
There's no word yet on when the show will debut — things seem to be in the early stages — but the Duke and Duchess have the perfect little test audience at home with kids Archie and Lilibet.
Markle said she'd been working hard to bring the show to light. "Like many girls her age, our heroine Pearl is on a journey of self-discovery as she tries to overcome life's daily challenges. I'm thrilled that Archewell Productions, partnered with the powerhouse platform of Netflix, and these incredible producers, will together bring you this new animated series," she said. Among her producing partners will be David Furnish, the husband of the royal couple's close friend Elton John.
Meghan and Harry signed a major deal with the streaming service last year, agreeing to crank out everything from scripted series to kids' shows to documentaries and docu-series.
"Our lives, both independent of each other, and as a couple have allowed us to understand the power of the human spirit: of courage, resilience and the need for connection," Harry and Meghan told the L.A. Times back when they originally signed the deal. "Through our work with diverse communities and their environments, to shining a light on people and causes around the world, our focus will be on creating content that informs but also gives hope."
Prince Harry unveiled another upcoming project in April, one that focuses on a cause he's long been passionate about. Heart of Invictus will follow competitors as they prepare for the 2022 Invictus Games — the sporting competition Prince Harry founded for injured servicemen and women.
Now that they've stepped back from royal life and are settled in California as a new family of four — Archewell seems poised to keep cranking out projects for the couple.