Meghan Markle Tells Oprah The Royal Family Is 'Perpetuating Falsehoods'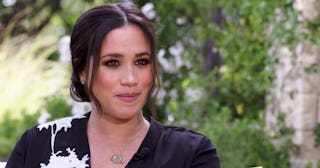 CBS/Youtube
In a new clip from her interview with Oprah, Meghan Markle makes an intense accusation about the Royal Family
If you're anything like, well, all of us who are super into the current situation with the royal family, you've had this Sunday marked on your calendar for weeks and cannot wait for it to arrive. That's the day that an intimate interview between Meghan Markle and Oprah will air, and there's already just so much evidence that the tea will be piping hot.
To add to the anticipation, another new clip from the interview dropped today, and makes it clear that Markle had no plans to hold back anything about her time in the Royal Family when she sat down across from Oprah.
In the clip, Oprah asks, "How do you feel about the Palace hearing you speak your truth today?"
Markle replies, "I don't know how they could expect that after all of this time we would still just be silent when there is an active role that the Firm is playing in perpetuating falsehoods about us. And if that comes with risk of losing things — I mean, there's a lot that's been lost already."
I mean, damn.
The timing of the clip is particularly interesting, because stories just hit the British tabloids yesterday alleging that Markle was emotionally abusive to Palace staff while she lived with the royal family. The stories, which naturally came from anonymous sources, accused her of creating a hostile environment where nothing was ever good enough for her, and reducing staff members to tears with her alleged "bullying" behavior.
Markle released a statement to the Sunday Times thoroughly denying that there's any truth to that story.
"The Duchess is saddened by this latest attack on her character, particularly as someone who has been the target of bullying herself and is deeply committed to supporting those who have experienced pain and trauma," a spokesperson for Markle said. "She is determined to continue her work building compassion around the world and will keep striving to set an example for doing what is right and doing what is good."
Considering the Oprah interview was filmed long before this, and Markle was alluding to the royal family lying about her before this even happened? Well, it's not hard to connect the dots about what might be going on here. In fact, friends of the Duke and Duchess of Sussex think they know exactly who's responsible for those bullying rumors.
"Harry and Meghan knew that it would get ugly in the run up [to the Oprah special], but seeing such an obvious attempt at destroying her character was distressing and upsetting," a source close to the couple said.
Oprah with Meghan and Harry: A Primetime Special airs this Sunday at 8 p.m. Eastern on CBS.
This article was originally published on