Melissa McCarthy Holds Up Sign Supporting Mariska Hargitay After Ankle Injury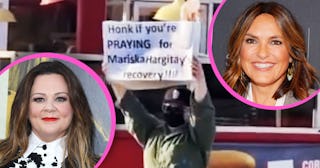 Melissa McCarthy/Instagram and Steve Granitz/WireImage/Ron Adar/SOPA Images/LightRocket/Getty
We all need a friend like Melissa McCarthy
Mariska Hargitay was having a tough week. The Law and Order: SVU star broke her ankle recently and is laid up for the summer. Her good friend Melissa McCarthy decided she needed some support and love from random strangers outside a Wienerschnitzel, so she held up a hilarious sign asking for prayers.
The Bridesmaids actress posted the stunt on Instagram. She was jumping up and down holding a sign that read: "Honk if you're PRAYING for Mariska Hargitay's recovery." Just in case people were unfamiliar with the star, McCarthy affixed a photo of Capt. Olivia Benson of SVU fame to it because she's the funny and helpful friend.
"If you can't produce quality care for your friend after ankle surgery, the next best this is obviously standing outside Wienerschnitzel with a sign @therealmariskahargitay," McCarthy captioned an Instagram video of her shenanigans.
Hargitay was quick to reshare the video, noting that breaking her ankle was worth it when you have friends like McCarthy. "Above and beyond," she wrote in the caption. "Honk if you're blown away by @melissamccarthy's heart and humor. Might be worth breaking my ankle for."
The actress first let fans know about her injury last week, posting a picture of her ankle in bandages. "My summer look," she wrote, adding the hashtags "#specialankleunit," and "#crackingthecase." According to Page Six, Hargitay was walking on a rainy pavement while leaving a Cinema Society screening of Black Widow in the Hamptons and fell.
Hargitay doesn't just have a good friend in McCarthy. She recently posted a selfie showing off a pink-and-purple walkie-talkie that SVU writer Brianna Yellen sent to her in case she needs to call for help. "Thanks @blyellen I had no idea how much I needed these. Because when you're laid up, you need a little help when you have to go 10-1," the actress wrote.
Another friend sent her a beautiful bouquet of flowers to keep her spirits up, which Hargitay hashtagged #fiercefemalefriendships.
These are the kinds of friends every woman needs. The ones that make you laugh even when you want to cry and who will go out of their way to make sure you know they're thinking about you. Flowers are always welcome, but anyone willing to stand on a street corner with a handmade sign asking for prayers is a keeper in my book.
Hargitay has been keeping fans updated on her now slower than expected summer plans, which appear to be a lot of healing and laying around. Luckily, she has some time to catch up on old SVU episodes with the rest of us.