Meteorologist's Toddler Makes Unexpected, Adorable Cameo On Live TV
by Leah Groth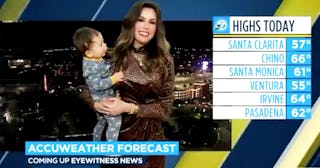 ABC7Brandi/Twitter
Meteorologist Leslie Lopez's 9-month-old son made an adorable 'interruption' during her broadcast
Prior to the pandemic, most parents strived to separate their personal life from their professional one. You know, avoiding bringing their children to the office, making sure they don't show up at work meetings, and keeping them off of their conference calls. However, as life as shifted during the pandemic, and the majority of people — including politicians, public figures, newscasters, and show hosts — are being forced to set up "coworking/schooling" spaces with their kids. In the most recent hilarious episode of "kids that video-bomb their parents' professional life," an adorable toddler crashes her meteorologist mother's live broadcast.
ABC7's Leslie Lopez has been reporting the weather in Los Angeles from the safety of her home, without the help of any crew, since the start of the pandemic. However, on Jan. 8, her viewers were treated to a hilarious show when her 9-month-old son, Nolan, decided to make an appearance.
As mom, fully made up and dressed to the nines, discussed the weather, the tiny tot grabbed onto her legs.
"It looks like… this baby down below," she said laughing. She continued on with her forecast, while her son clung to her for dear life, before picking him up into her arms like a supermom.
"He walks now, guys, so I have lost all control," she joked.
According to Lopez, who rehashed the experience on Good Morning America, revealed that her baby just learned how to walk. So, at 5:40 a.m., he decided to show off his new party trick in front of thousands of viewers.
"For the first time ever, he's pulled himself up from sitting to standing," Lopez revealed. "On one hand, I'm so proud of him…and I'm so glad he didn't face-plant on live television."
Nolan's big cameo has gone viral with the help of ABC7 news anchor Brandi Hitt, who shared the clip on social media. Parents across the country embraced Lopez, as the majority can relate.
"Real life of a working mom!" wrote one person on social media.
"Agree that this is always fun to see — we are all dealing with this and it makes one feel good — it's real. It's awesome," wrote one parent. "Never feel bad because we all inside are feeling joy as we can relate."
"Yeah, I love how the pandemic has stripped away the illusion we all had to work so hard to try to preserve," another pointed out.
Lopez isn't the first parent whose child has made a very public appearance in their work life during the pandemic. Pennsylvania's Attorney General, Josh Shapiro, was the subject of a viral video when his son strolled into a live television interview looking down on his phone, and celebrity dad and late night talk show host Jimmy Fallon's kids and pets have also made cameos during his pandemic productions.