Michael B. Jordan Stars As A Sexy 'Alexa' In Thirsty Super Bowl Ad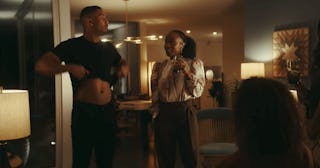 Amazon/Youtube
The thirst is real in this hilarious Super Bowl ad featuring Michael B. Jordan as Amazon's Alexa
You're going to want to stop whatever it is you're doing and behold Michael B. Jordan in his Super Bowl commercial debut. The commercial, titled "Alexa's Body," features Jordan as a human version of the popular Amazon voice-recognition system and it's just… yeah. You need to check it out for yourself, because it's that good.
The ad will premiere as a 60-second commercial during the fourth quarter of Super Bowl LV on Sunday, but if you want to watch it online (and you do), it's a full 90 seconds. And it's worth every single one of those seconds.
The commercial starts off innocently enough, with a group of office executives admiring the design of the new, spherical Alexa device.
"I literally could not imagine a more beautiful vessel for Alexa to be inside," one woman says. She gazes out the window of the conference room and sees an ad with Michael B. Jordan on it, and instantly begins fantasizing about a, uh, different kind of "vessel" for Alexa. (Spoiler: It's Jordan.)
In her daydream, we see the woman (who is married, whoops) learn how to cook and speak French thanks to Jordan's — or, Alexa's, rather — expert tutelage. He even joins her for a candlelit bubble bath, where he reads her a spicy chapter from an audiobook.
Her poor, exasperated husband is completely helpless to stop his wife's infatuation with her new… device, but tries his damndest to steer her attention elsewhere. Regardless, she still asks Alexa — with those piercing robot eyes — to "add bath oil to my shopping list." LOL.
The Black Panther star delivers an award-worthy performance as Alexa, tbh. It's nothing less than what we'd expect from PEOPLE's most recent Sexiest Man Alive.
"It's a cool feeling," he told PEOPLE about the announcement. "You know, everybody always made that joke, like, 'Mike, this is the one thing you're probably not going to get.' But it's a good club to be a part of."
During the last few years, Jordan has captured the attention of audiences with his roles as Apollo Creed's son Adonis in Creed and Erik Killmonger in Black Panther. Beyond being the kind of leading man everyone loves no matter what role he takes on, Jordan is also a social justice activist. He's been an active participant in the Black Lives Matter movement, and his production company was the first one in Hollywood to adopt an inclusion rider — which mandates that casts and crews be diverse.
"I think there's a time and a place for everything," Jordan said. "I've been picking my moments to make the most impact. We can all take action—big or small—to help create the change we want to see."
And now we can all see him in one of the best Super Bowl ads of all time. WHEW.