Michael Costello Shares Horrifying Texts Allegedly Sent By Chrissy Teigen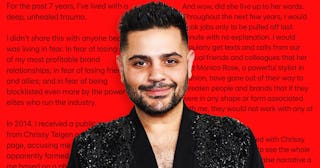 Scary Mommy, Presley Ann/WireImage/Getty and Michael Costello/Instagram
In the aftermath of Chrissy Teigen's apology post, Project Runway alum Michael Costello has shared threatening messages reportedly sent to him by Teigen in 2014
Hours after Chrissy Teigen apologized for her "past horrible tweets" in a post on Medium, another reported victim of hers has come forward with what appears to be evidence of digital harassment and bullying. Fashion designer Michael Costello shared seemingly threatening messages sent to him by Teigen in 2014, opening up about the "deep, unhealed trauma" he's experienced in the years since.
"I cannot be happy until I speak my mind," Costello began, sharing that he "wanted to kill myself" and is still "traumatized, depressed, and have thoughts of suicide."
"For the past 7 years, I've lived with a deep, unhealed trauma," the Project Runway alum said. "In 2014, I received a public comment from Chrissy Teigen on my Instagram page, accusing me of being racist. She apparently formed her own opinion of me based on a Photoshopped comment floating around the internet which has now been proven to be false by Instagram and since taken down. When I reached out to Chrissy Teigen to communicate that I was the victim of a vindictive cyber slander, and that everything she thought I was is not who I am, she told me that my career was over and that all my doors will be shut from there on."
Costello also claimed that Teigen and her pal, stylist Monica Rose, went "out of their way to threaten people and brands that if they were in any shape or form associated with me, they would not work with any of them," claiming that he was fired from jobs "with no explanation." He says he "pleaded with Chrissy Teigen or Monica Rose to see the whole story before believing a false narrative a former disgruntled employee cast upon me."
The reported behavior from Teigen and Rose led him to suffer with his mental health. He wrote, "I didn't see the point of living. There was no way I can ever escape from being the target of the powerful elites in Hollywood, who actually do have the powers to close doors with a single text. Not only was I the target of cyber defamation, I was also getting blocklisted [sic] in real life."
Costello, who has worked with the likes of Jennifer Lopez, Mariah Carey, and Beyoncé, also shared some extremely disturbing messages reportedly from Teigen, in which she allegedly told him, "Racist people like you deserve to suffer and die. You might as well be dead. Your career is over, just watch."
Neither Rose nor Teigen have responded to his allegations, but Teigen did return to Instagram to share a photo of a new tattoo she got.
She alluded to the controversy surrounding her in the post's caption, ending by writing, "Love you all to bits, I really do. Even if you hate me, I can honestly say I do not hate you. I send you love. How annoying is that! You must be soooo annoyed!! Anyhoo, love you, love you, love you. Here's to the messes in progress."
If you or someone you know is considering suicide, please contact the National Suicide Prevention Lifeline at 1-800-273-TALK (8255).