Barack Celebrates Michelle's Birthday With Stunning Throwback Photo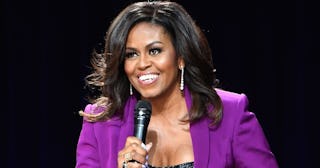 Parris Griffin/Getty Images
Michelle Obama looks lovely in yellow and gold hoops in never before seen pic that Barack shared on her birthday
With only days to go before Lord Voldemort is out of office, we have another reason to celebrate: it's Michelle Obama's birthday. The former First Lady is celebrating her 57th birthday today, January 17, 2021 (she shares the day with the iconic Betty White, actually) and even though we love Michelle, no one loves her as much as her husband, Barack. In what's become an annual tradition, Obama shared a sweet pic to honor his wife on her birthday and from the lovely vintage pic to him calling her "Michelle," we're all over this bday post.
"Happy birthday to my love, my partner, and my best friend," the former president wrote in an Instagram post, alongside a stunning throwback photo of his wife. "Every moment with you is a blessing. Love you, Miche."
Last year, Obama shared four snaps of himself with the former First Lady, where they can be seen snuggling, laughing, and looking like they could have 99 problems, but impeachment ain't one. Or two…but who's counting?
Barack's Insta timeline is filled with sweet gestures to his wife. On October 3, the man who showed such grace and civility during the Orange One's transition that he should be nominated for another Nobel Peace Prize, wrote this: "Even with everything going on, I wanted to take a moment to say happy anniversary to the love of my life. Every day with Michelle Obama makes me a better husband, a better father, and a better human."
Kamala Harris wished Michelle a happy birthday as well. "Happy birthday, [Michelle]," the next Vice President wrote. "Thank you for pouring every ounce of yourself into empowering the next generation of leaders. Our country, and myself, are better off because of you."
I also just love that at the end of Trump's presidency, the focus is on Michelle's birthday instead, aka a memorable, powerful, and iconic First Lady. We'll have to see which of Michelle's speeches Melania Trump will steal to wish her predecessor a happy birthday. Or maybe she's too busy taking pictures of rugs and packing up her I Don't Really Care Do You? jacket to act like a decent human being. We'll hold our breath on a birthday shoutout from the current first lady. Somehow, I don't think Michelle cares either way.
This article was originally published on