Your Kids Will Love Michelle Obama's New Netflix Cooking Show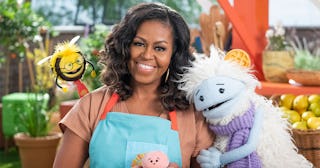 Netflix
Michelle Obama's new show, Waffles + Mochi, will premiere on Netflix March 16
If you love everything about Netflix you're going to love it even more when we tell you Michelle Obama is teaming up with a couple of puppets to bring us a new kids cooking show — and it's all for a good cause.
"I've got some big news for you!" Obama wrote on Facebook to introduce the new series. "This is something I've been working on for a while now, and I'm so excited to finally be able to tell you all about it. Allow me to introduce two new friends of mine: Their names are Waffles and Mochi. And on March 16, we'll be launching a new children's show on Netflix called Waffles + Mochi."
According to Netflix, the series will follow two puppets named Waffles and Mochi who "blast off on global ingredient missions, traveling to kitchens, restaurants, farms and homes all over the world, cooking up recipes with everyday ingredients alongside renowned chefs, home cooks, kids and celebrities."
But who are Waffles and Mochi and how did they get here? "Once upon a thyme, deep in The Land of Frozen Food, lived two best friends named Waffles and Mochi with one shared dream: to become chefs!" Netflix said in a press release. "When these two taste-buddies are suddenly hired as the freshest employees of a whimsical supermarket, they're ready for the culinary adventure of a lifetime." And who better to help them along their journey than Mrs. Obama? No one, that's who.
Obama continued, saying, "Kids will love it, but I know that adults will also get plenty of laughs—and some tips for the kitchen." She also added that the pandemic has been hard for families and she's hoping the show will bring some much needed levity into our homes.
In that spirit, the show will also be helping families during the pandemic. "We're working with our partners at Partnership for a Healthier America to get fresh ingredients to families in need across the country so they can cook together at home," she said.
Since leaving the White House, Obama hasn't let her foot off the gas pedal. In May 2020, Becoming, a documentary about her post-White House life, also premiered on Netflix. The film was named after her record-breaking memoir and followed the former First Lady on her 34-city book tour.
As we're all trying to find ways to make dining at home more exciting and to entertain ourselves in the process, leave it to Obama to have our backs once again. Having a new show that can capture the family's attention and teach us some new recipes is a gift. Who knows, maybe our kids will actually try something other than chicken nuggets (one can dream).
WATCH: MICHELLE OBAMA TALK ABOUT COOKING FOR HER KIDS
This article was originally published on