Mickey Mouse Oreos Are Coming And Your Kids Are Gonna Freak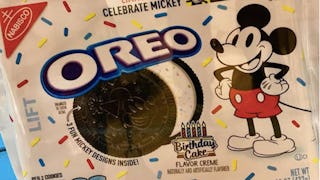 Image Via Instagram
Mickey Mouse turns 90 this fall, and he's getting a limited edition Oreo so we can all celebrate
What would you like for your birthday his year? Maybe a nice dinner, or a party, or a little weekend getaway? Well, Mickey Mouse isn't having any of it. The classic Disney character turns 90 on November 28, and he's celebrating with a limited edition Oreo cookie that your kids are going to gobble up.
No one can argue that Mickey isn't aging well – or that they aren't all about the idea to give him a birthday cookie sandwich. The new Nabisco Oreos have confetti-colored creme that tastes like birthday cake as well as three different mouse-themed cookie designs, which one can assume are delicious to dip into milk one after another until they're all gone.
https://www.instagram.com/p/BjF6ObcH_Dm/?utm_source=ig_embed
The new creation was spotted by Michigan food blogger Junk Food Mom, who snapped an Instagram photo of the package at the Sweets and Snacks Expo in Chicago, Illinois. She notes that the Oreos have been rumored for months, but that they're "sitting beautifully" in an expo showcase, though their official release date is unknown.
The Mickey Oreo announcement comes just weeks after Oreo maker Mondelez International announced three finalist flavors in their $500,000 contest for a new kind of Oreo: cherry cola, kettle corn and piña colada. All three are being released as limited editions before the final winner is chosen.
Junk Food Mom saw two other new Oreo products at the Expo: Mint Oreo Big Crunch Bars, and limited edition Strawberry Shortcake Oreos.
But for the time being, we can look forward to running out and buying as many Mickey Oreos as our grocery carts can hold to properly celebrate the House of Mouse. And cookies. Let's be honest — mostly cookies.