Micro-Libraries Are A New Trend That We Love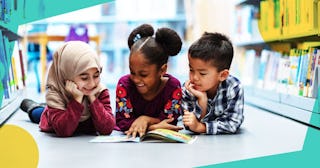 Scary Mommy and FatCamera/Getty
You know how sometimes you hear of an idea and you're like OH MY GOSH why didn't I think of that? Or why didn't anyone else think of it before now? Because it's so ridiculously clever and actually pretty easy to pull off?
Like, for example, the pacifier clip…
RELATED: 10 Best Bookshelves For Little Readers (And Their Mamas Who Love To Clean Up)
Or longer cell phone cords…
Or online check-in for the DMV…
Genius.
Well, this is one of those ideas that is so unbelievable and commonsensical and also makes the world better for kids. Because it involves books, and reading is crucial for all kids' development (and it's fun).
It's called a "laundromat library" and is exactly what you'd think — a small selection of books for kids to read while they sit with their parents for hours at the laundromat. (Because, if you've ever washed your clothes at a laundromat, you know that you pretty much spend the day there.)
But what do kids do the whole time their parents feed quarters into the machines, wash, dry, and fold?
Well, kids in Milwaukee, Wisconsin can read. Yay!
An article published on wuwm.com tells about a busy mom named Clarice McGowan who recently hit Riverworks Coin Laundry with her 8-year-old daughter and 11-year-old niece in tow. As all moms do, she came prepared with activities (a backpack full of Barbies) for the girls to play with. But when they arrived, they found the laundromat's new reading nook and were pleasantly surprised.
The "Read, Play, & Learn" space had a small couch, magnetic letter board, and a shelf full of books.
"People come to the laundromat and generally spend at least an hour or more. So during that time to keep the kids occupied with something positive, I think that's a great asset to this laundromat," McGowan says.
We agree. Again, such a simple, common sense idea that makes a difference.
It's multi-tasking at its finest.
The girls were excited too. "[Kids] can study while they're in the laundry. And they can learn new words if their parents come over here and help them spell words," 8-year-old Gigi says.
So how did this idea come about? Dea Wright, director of the Milwaukee Office of Early Childhood Initiatives, says it all stemmed from wanting to expose kids to more literacy and asking: Where do kids spend a lot of time being idle? Where can books be placed for them to read?
Laundromats were the first logical choice to implement Milwaukee's new "Read, Play & Learn" spaces—which, Wright says, will hopefully expose kids to more print and get them engaged in reading. So, her office partnered up with The Clinton Foundation's "Too Small to Fail" initiative and the LaundryCares Foundation (which have already done similar projects in cities like Chicago and New York) to jumpstart this literacy initiative in Milwaukee.
Dan Naumann from LaundryCares says their focus is on finding "book deserts" across the country and getting more literature into the establishments and homes located in those "deserts."
Because, the truth is, the statistics aren't good. According to dosomething.org, students who don't read proficiently by the 3rd grade are four times more likely to drop out of school. And 2/3 of students who cannot read proficiently by the end of 4th grade are likely to end up in jail or on welfare. Initiatives like this help combat those alarming statistics by getting more literature into the hands of young people, and hopefully, getting them hooked on books.
Wright also says that lower-income areas of Milwaukee were targeted first for this initiative, in the hopes that these children will benefit from literature exposure and engagement, and that it might help bridge the achievement gap often occurring between kids from lower-income versus affluent areas.
Also, these micro-libraries aren't just a book shelf in laundromats—kids are encouraged to take books home as well. There are also plans to bring librarians into the laundromats to read with kids and help parents learn ways to engage with their children and improve their literacy skills.
All while their clothes are getting washed. It's multi-tasking at its finest.
Personally, I know my kids love to discover books in new places, especially if they have to sit somewhere for a while. They've definitely enjoyed similar surprise literacy spots at doctors offices, the dentist, and even that one time I actually had to go inside the bank.
So yeah, laundromats make a perfect place to house a pile of books and a comfy reading couch for kids.
Both Naumann and Wright say they aren't stopping anytime soon, either, as they hope to "blanket" Milwaukee laundromats with reading centers, as well as look into other areas where kids might be able to grab a book, like grocery stores, bus stops, and the DMV.
As a child book-lover myself, my favorite part of shopping with my mom was finding an aisle of books to look at while she perused the aisles and scanned her coupons. I remember when I was finally old enough to "hang out with the books" while she shopped, and I soaked up every minute in the book section. I can only imagine how much more I would have loved it if there was a couch or chair for me to sit and read while I waited for her to come find me before checking out.
And now that I'm a mom myself, I have started letting my own kids "hang out with the books" in stores like Costco while I shop. It's their favorite part.
These micro-libraries aren't just a book shelf in laundromats—kids are encouraged to take books home as well.
Dea Wright and Dan Naumann know that kids across all income brackets love to read, and need to have books in their lives. But far too often children from underprivileged areas don't have enough exposure to literature, for a variety of reasons. The simple message they hear, however, when they enter their local laundromat and see a "Read, Play, & Learn" space is this: You are smart. Your mind is important. Here's a book to read.
And you can't put a price on that.
On her visit that day to Riverworks Coin Laundry, Gigi read "Is Your Mama a Llama?" but admitted that she prefers chapter books like Junie B. Jones (my 8-year-old does too, Gigi). So hopefully she'll see some of those next time.
Thumbs up to Milwaukee's Office of Early Childhood Initiatives and to LaundryCares. Reading is vital to children's development—and not just academically. Books help our kids process their emotions, learn about kindness, forgiveness, fairness, and friendship. Books take them on adventures where they read about courage and how to get back up after failure and find their inner passions to make the world better.
As a mother and a former teacher, I love this program and the message it sends to the children of Milwaukee.
This article was originally published on