'Bachelor' Mike Johnson Confirms Demi Lovato Dating Rumors By Adorably Gushing About Her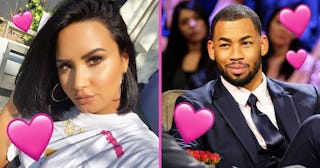 Demi Lovato/Instagram and ABC
Mike Johnson and Demi Lovato may not be boyfriend-girlfriend yet, but things are definitely heating up between them
Bachelor Nation was more than a little crushed when fan-favorite Mike Johnson unceremoniously left Paradise without finding love this year. But that turned out to be for a good reason — the man who should have been Bachelor has officially confirmed all those rumors that he has a famous new flame: Demi Lovato.
We've been seeing their flirtatious exchanges on social media for weeks, but neither of them has really confirmed that they're dating — until now. But those flirty exchanges, LAWD. They're way too cute. When she shared an unedited bikini pic along with some very vulnerable opening up about her body, Johnson was only too happy to comment with his thoughts. "Look at me like that again," he wrote along with a smirking emoji. He also said, "Love yaself."
https://www.instagram.com/p/B2DLlZ4BfgP/?utm_source=ig_embed
For her part, Lovato made a few passes at Johnson including leaving a comment on this Instagram post of a tweet where he talks about his future wife. "I'M RIGHT HERE MIKE I'M RIGHT HERE BOO MY MOM ALREADY LOVES YOU TOO," she wrote.
Then, a little over a week ago, Johnson told E! what he thought about their growing flirtation. "I think she's absolutely fantastic and I don't want no pressure on her, no pressure on me, we're just trying to get to know each other," he said. However, when asked if he was talking to anyone else besides her, Johnson said, "No, it's just Demi. That's the only person I'm talking to."
Which brings us to now.
Johnson recently appeared on the "Almost Famous" podcast, where he was of course asked about his love life. And while he and Lovato aren't an official couple just yet, the way he adorably gushes about her makes us think (and hope) it might not be long.
https://www.instagram.com/p/B3DyvZKhfD2/
First of all, Mike revealed that he and Demi have been on more than one date, something Bachelor Nation has been discussing lately. We knew they went out once, but was there a second date? Now we know that yes, there was, and potentially there was even a third or more.
And when asked what he likes about Lovato, he had this to say: "I like her tattoos — we both have a lot of tattoos. Demi has more than me."
That's cute, but then he just casually added, "And she kisses really well."
Welp, there it is. Someone call 911 because everyone in Bachelor Nation just died. Not only does this confirm, officially, finally, that Mike and Demi are dating, but he's just coyly dropping bombs like they made out.
https://www.instagram.com/p/ByYm841nBMu/?utm_source=ig_embed
He also mentioned that she's the "aggressor" in their budding relationship and he thinks that's "incredibly sexy."
"I love that," he said. "Like, come at me. You want me, come at me. If I want you, I'ma come at you. And I'm coming at her as well."
Seriously, my face is the heart-eyes emoji. All of us right now:
But before we all start celebrating our favorite Bachelor couple of all time, we need a quick reminder that Mike and Demi are not a couple yet, and it's actually stressing them out that people are so invested in their relationship while they're still in that testing-the-waters phase.
"What scares me about it is that if Demi and I were not to become boyfriend/girlfriend, how people perceive that, which honestly I shouldn't give two shits about," Mike said. "We do like each other and we are getting to know each other but what if it were not meant to be? Then people are gonna speculate."
In other words, what he's telling us, Bachelor Nation, is that we need to calm the heck down. It's hard, I know, I get it, I for one am hardly containing my excitement and joy. But if we love Mike as much as we say we do, we should probably butt out of this one until he and Demi go public officially. There are other Bachelor couples we can focus on for now.
This article was originally published on