Ashton Didn't Agree With Mila's Advice To Their Daughter On Bullies
by Erica Gerald Mason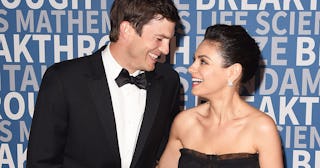 C Flanigan/Getty
The actor opened up about a time she asked her daughter if she pushed another child
Parenting styles, yo. It can be tough when parents disagree about how to raise their children. Some are firmly in the "consequences are the direct result of actions" camp, while others are in the "everyone makes mistakes – life is about 2nd (or 5th) chances." What's fun about this type of disagreement is that it often plays out in front of the children, in real-time.
That's something Mila Kunis can relate to, as she explained in Ellen DeGeneres's web series Mom Confessions. Kunis admitted that she and her husband, Ashton Kutcher, don't always agree about parenting choices.
Mila said she gave their daughter Wyatt some straightforward advice when she had a run-in with a kiddo at her preschool.
"There was a little kid in my kid's preschool that wasn't very kind and pushed my daughter," Kunis began. "My daughter came back and was like, 'Such and such little kiddo pushed me,'" Mila recalled. "And I instinctually said, 'Did you push her back?' And my daughter's like, 'No!'"
Mila told little Wyatt to fight back, letting the then 6-year-old know she should "push her back next time." "'You push her back, and you say, 'No, thank you,' and you walk away,'" the mama bear said.
Mila ended the convo thinking that was the end of it; but it turns out, but husband Ashton didn't exactly approve of her advice.
"I turned around, and I see Ashton's face, and he was like, 'No!'" she said, pretending she was her husband as she shook her head in shocked outrage. Mila, not deterred, daunted or delayed by Kutcher, made sure to reiterate to her daughter, "You stand up for yourself, and you say 'No thank you.'"
"Don't push her off of a ladder, off of a swing, or off of a slide, but on the ground, even Steven, you push her back," she added, standing by her tactic. At the end of the segment, Kunis admitted that her advice is maaaaaaaabye not the right way to handle conflict at the preschool level, saying that her talk with her bebe was "a parenting fail."
To be fair, before she recounted the story, Kunis warned viewers, "Well, here's a story that's about to get me in trouble." Earlier this year, Kunis and Kutcher came under fire for admitting they don't bathe their children as often as other parents claim to. The key phrase here, being 'claim to.' Let he who is without yesterday's dirt under their toddler's fingernails cast the first stone.
That's what happens when someone (even if it's another child) messes with a mama bear's cub: the mama bear comes charging in to say, "No, thank you."