Miley Denies Cheating On Liam In Lengthy Statement: 'I Love Liam And Always Will'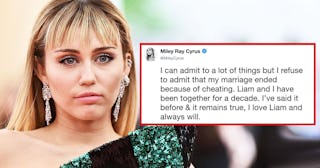 Theo Wargo/Getty and Miley Cyrus/Twitter
Miley Cyrus took to Twitter to pen a lengthy statement on the end of her marriage to Liam Hemsworth
On Tuesday, August 21, 2019, Liam Hemsworth officially filed for divorce from Miley Cyrus. The couple announced their separation earlier this month and shortly after the news broke, Cyrus was spotted kissing The Hills star Kaitlynn Carter in Italy. This caused unfounded rumors to swirl that Cyrus cheated on Hemsworth. The facts are that Hemsworth was spotted without his wedding band as far back as June and we have no idea how long Cyrus and Hemsworth have actually been separated, but Cyrus took to Twitter anyway to categorically deny that she was ever unfaithful to Hemsworth during their long relationship.
Cyrus stated that she has "nothing to hide" and referred to cheating rumors as a "crime I haven't committed," and then launched into a long Twitter thread about the dissolution of her marriage.
Cyrus opened her statement by listing all the stumbling blocks she's experienced over the years — like experimenting with drugs and cheating on a former partner when she was much younger — to bolster her current claim that she never cheated on Hemsworth.
"Once Liam & I reconciled, I meant it, & I was committed. There are NO secrets to uncover here…" Cyrus wrote. "I can admit to a lot of things but I refuse to admit that my marriage ended because of cheating. Liam and I have been together for a decade. I've said it before & it remains true, I love Liam and always will."
"You can say I am a twerking, pot smoking, foul mouthed hillbilly but I am not a liar," Cyrus stated.
Cyrus and Hemsworth met when they were teenagers in 2009 on the set of The Last Song. Though they were on and off for a while, the couple essentially spent a better part of a decade together. In many ways, these two are high school sweethearts and so many of us can attest to how difficult it is to navigate a marriage that began at such a young age.
In Cyrus's final tweets, she seems to imply that they've simply grown apart.
"I had to make a healthy decision for myself to leave a previous life behind. I am the healthiest and happiest I have been in a long time," she wrote. "I am proud to say, I am simply in a different place from where i was when I was a younger."
Cyrus seemed to corroborate these tweets with her new single "Slide Away" which includes lyrics like: "Move on, we're not 17/I'm not who I used to be/You say that everything changed/You're right, we're grown now."
Aside from filing for divorce, Hemsworth's only public statement is the one he shared on Instagram last week in which he wished Cyrus nothing but "health and happiness going forward."