Mindy Kaling Will Play Velma In 'Adult' Twist On 'Scooby Doo'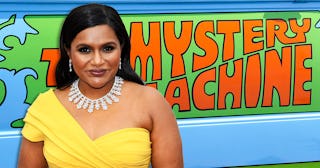 Kevin Mazur/John M. Heller/Getty
Mindy Kaling is set to executive produce and voice Velma in 'Scooby Doo' spin-off series about the iconic character
Mindy Kaling is set to executive produce and voice the lead in Velma, an upcoming, animated, and comedic origin story about your fave Scooby Doo character, Velma Dinkley. HBO Max announced the news, saying the "adult animated" show about the frequently rebooted mystery-solving characters will focus entirely on Velma this time, a character they call the "unsung and under-appreciated brains" of the Scooby gang.
Kaling, who brought the great Kelly Kapoor into our lives, who created and starred in The Mindy Project, who is currently writing the Legally Blonde sequel, and who created the fantastic new Netflix series Never Have I Ever, is kind of a genius both behind and in front of the camera, so I feel we're in good hands with whatever spin she puts on the classic Velma character. Although Velma is usually a little bookish, Velma's past incarnations have always existed on a spectrum, from scaredy cat to a Daria-type slingin' zingers, leaving the door pretty wide for Mindy to put her signature Mindy-ness (quippy, fast-talking, a little socially awkward) into Velma.
Velma, the new series, is described by HBO Max (via Entertainment Weekly) as "an original and humorous spin that unmasks the complex and colorful past of one of America's most beloved mystery solvers."
Or as Mindy put it, "I'm so excited to be voicing this iconic character! Velma will struggle to navigate the pitfalls of high school, her budding sexuality, and a serial killer intent on murdering every popular kid in town. Sounds epic…can't wait!"
Velma has already been voiced or portrayed by some pretty cool ladies. Gina Rodriquez voiced Velma in the recent Scoob! movie…
While Linda Cardelini and even pop star Hayley Kiyoka have played Velma in past live-action versions.
Turning Velma into an "adult animation" show is part of a plan, sort of, to capture the elder millennials and xennials who grew up watching Sunday morning cartoons, like Scooby Doo, and reboot those shows into something that fits our adult sensibilities now. HBO Max already has a dark and funny Harley Quinn animated series that is nothing like the Batman cartoon you remember from your youth, so I'm guessing Velma will follow that blueprint. "We can draw a straight line from our hundreds of childhood hours spent watching Bugs outwit Elmer to the current slate of adult animated projects we are building here at HBO Max, and we think fans will agree," the streamer said in a statement.
Honestly? Just excited because anything Mindy Kaling touches is content-gold.