As A Mom Of Teens, This Is What I Miss Most About Halloween With Young Kids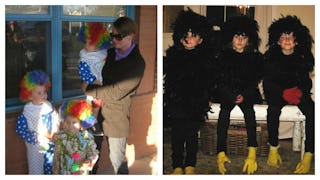 Katie Bingham-Smith
It's almost Halloween and it feels like it was just last year when my oldest told me he wanted to be a clown, then all three of my kids wanted to be a clown just like him and I was having nightmares about running through the store trying to find matching clown wigs.
But that wasn't last year. No, it was a decade ago. A decade.
But that's motherhood: Looking back and feeling like things are moving at lightning speed yet being in the moment and feeling like you are walking through wet cement.
There were the days my kids' excitement started bubbling in July about what they wanted to be, and I'd start making trips to the fabric store in September — when I'd pick out the fabric while daydreaming about the rest of their costumes.
Those days have been gone long enough to make me forget how much work it all was. For a few weeks, as the leaves began to trickle off the trees, I'd tuck my kids in and sit in front of my sewing machine and go full speed ahead until my shoulders ached so bad I needed aspirin, a heating pad, and my bed.
And I loved it.
Not the "my body screaming at me" part, but their faces when they saw their finished costumes. And the way they'd clutch their little pumpkins and march up the big front porches under the street lights saying "trick or treat " in tiny voices.
Now, the mere suggestion of dressing up together as a family or throwing a Halloween party makes them cringe.
I miss having little ones who used to be excited about helping me plant mums in planters on the back deck and bite off the ends off of candy corn.
I miss the the excitement they had when we'd show up at the school parade and march around the neighborhood before they became too old and felt too awkward to dress up.
I miss the squealing over packets of mini M&Ms and tiny chocolate bars.
I miss sneaking their candy after they went to bed.
I miss going to the pumpkin patch to pick out pumpkins. I don't care if it was a shit-show and never went as planned and my kids fought over the same pumpkin despite there being a million to choose from.
I don't care, I want it back.
More than anything, I miss the moments those costumes created. I miss who they were, and I miss who I was.
Those were the days I worried that they had too much candy before bed. Now I worry about whether they are making the right choices on a Friday night while they are at a football game with their friends.
Those were the days they found magic in fake fur beards and yards of tulle. Now they find magic in designer jeans and expensive sneakers.
Those were the days when they wanted to help me make sugar cookies and dump a pound of sprinkles on each one. It would drive me bonkers and I had to scrape sprinkles out of the grooves on our wood floors for weeks.
But now they pass through the kitchen and grab a store-bought cookie because making them by myself would feel like self-torture. I would give anything to clean up a million sprinkles and scrape cookie dough off the kitchen island for a week.
I don't make Halloween costumes for my kids anymore. And there is a part of me that feels empty around this time of year since my late night sewing dates with myself have stopped and I no longer have the anticipation of seeing them put on their costumes and then wanting to live in them for the next month.
My daughter told me last week, as we were poring over old photos, that she remembers lying is bed, hearing my machine running, me saying bad words, and seeing lose threads scattered all over the dining room table in the morning when she woke up.
She remembers, and that's enough to get me through this year without feeling like a part of me is dead because that phase in our life is over.
That — and the big bag of mini M&Ms I ate by myself while my kids were at a football game.
This article was originally published on