Tips For Making Missionary Sex Into The Best Sex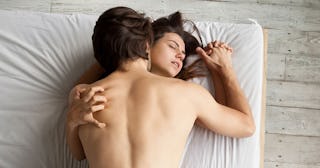 fizkes/Getty
My favorite sex position is missionary style — not afraid to say it (obvi), and there are many reasons why I like it. First, I like being dominated in the bedroom, and this makes me feel like my partner is in charge, which is really hot for me.
I like watching him have his way with me and seeing how turned on he gets.
I like other positions too, and riding my partner can be exciting (so can doggy style, the plough … you get the point). However, I never climax during intercourse — along with seventy-five percent of the vagina-owning population. If I did, I'm sure I'd have a different favorite position.
Missionary style is the most comfortable for my body. I also feel like being intertwined in this way gives us a stronger connection. Not to mention, if I've already had an orgasm, this doesn't feel too rough, since my lower set of lips tend to be really sensitive after I climax.
Missionary position doesn't have to be a snooze fest. There are many ways you can make it spicy.
1. Have fun with the lube.
There are so many great lubes out there which can be the missing ingredient you need to thrust your sex drive into the next gear. Warming lubes are great and comforting, along with flavored lubes.
If you really want to heat things up, try a CBD lube. It's arousing and intensifies your orgasm. Not to mention, it relaxes and tingles your entire body and have you falling into a luscious, relaxed sleep if that's a problem for you after sex.
2. Get outta the damn bedroom.
Get it in on the kitchen island, the sofa, or the living room floor. Simply having sex in a different room or place, regardless of the position, can be all you need to being some fresh excitement into you sex life.
3. Look at each other.
Making eye contact during sex is incredibly steamy. This is the position for it, even if it's only for a few seconds.
4. Hug with your legs.
I love wrapping my legs around my partner's waist during a good missionary love fest. However, depending on your flexibility and comfort level, you can lift them over your head, have your partner hold them up in the air, or bring them lower and wrap them around your partner's thighs.
5. Grab that ass.
There's nothing like a good ass grabbing to let your partner know you want to be in control. Don't just grab it either — you can control the speed and force of the pumps with the ass-hold.
Have your partner reach down and grab your ass too. We all know touching those cheeks is a turn-on, and what better way to get the ass involved than to give it a nice tug or smack?
6. … Or grab a vibe.
A vibrating cock ring, or a vibrator that stimulates your clit while you are banging away is super hot. It's an easy way to turn up the volume and make sure all your love notes are getting hit just right. Plus, you can play a game of Let's See If We Can Climax At The Same Time, which is a whole other level of sexy.
7. … Or some handcuffs.
Tie me down on my back any day of the week and I'll be turned on in less than sixty seconds. There's something amazing about watching your partner tie you up before they climb on top of you. If you want to add another element of surprise, break out the blindfold too.
8. … And maybe an extra pillow.
Putting a pillow underneath your hips can make it even more comfortable for the receiver, and be more intense for the person pumping away on top during missionary sex.
9. Talk to each other.
Talk in the bedroom — whether it's a few moans or describing everything you are doing and want to do to your partner — can add an extra element of excitement no matter what position you are doing.
10. Watch.
The missionary position allows you both to have a great view of the action. Watching yourself with your partner can get you both so hot and bothered and make your orgasm more explosive than ever.
Scary Mommy talked with Dr. Chavez, a licensed psychologist and K-Y's sex therapist via email. Dr. Chavez said the missionary position is so hot and versatile because it allows you to use the senses as an arousal booster. "Take in your partner's smell by nuzzling your face in their chest or neck while getting warmed up. Eye gaze and visually connecting with your partner can increase arousal and release hormones that accelerate feelings of safety and bonding."
When it comes to sex, it's less about the position and more about how you enhance the sexual experience. You can do a wild position or try ten different positions in one night — but sometimes getting back to basics can be more satisfying than anything else.
This article was originally published on