Missouri Senate Passes Bill Banning Abortions After 8 Weeks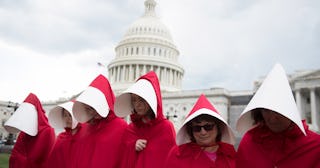 SAUL LOEB/AFP/Getty
On the heels of Georgia and Alabama, Missouri passes its own strict abortion bill
Today members of Missouri's Senate passed a bill prohibiting women from having abortions at eight weeks of pregnancy or later, making them the third state in a month to pass some of the most restrictive abortion laws in the country. Yep, the Handmaid's Tale is seriously coming to life.
The measure, which passed in a 24 white republicans-to-10 vote, will return to the state's House. If approved, it will land on the desk of Republican Governor Mike Parson — a Trump-supporting white dude (recently appointed to the Council of Governors by POTUS) who is anatomically incapable of birthing a baby. Seems fair, right? "Thanks to the leaders in the House and Senate, we have the opportunity to be one of the strongest pro-life states in the country," Parson declared on Wednesday.
The bill declares that any abortions performed would be considered a felony and that "any person who knowingly performs or induces an abortion of an unborn child in violation of this subsection shall be guilty of a class B felony, as well as subject to suspension or revocation of his or her professional license." In better news, women on the receiving end of those abortions will not be prosecuted. So at least there is that.
The law also clearly states that there are no exceptions to the abortion ban, even in cases of rape, incest or a diagnosis of Down syndrome, which is pretty disturbing.
If you are gasping out of horror right now (because we totally are) keep in mind that Missouri's initially proposed anti-abortion law was even stricter, but thanks to some hard-fighting democrats some revisions were made. Not only would it have banned abortions after the detection of a heartbeat — about six weeks into a pregnancy — but it would also have forced the second parent to be notified before a minor had an abortion.
This latest blow to anyone with a vagina (and humanity in general) comes less than 24 hours after Governor Kay Ivey — a republican woman — signed off on Alabama's abortion ban, which was passed by 25 lawmakers sans uterus. The Alabama law makes it illegal for anyone to get an abortion post-heartbeat, which basically means it makes abortion illegal period, as it's not so easy to detect a pregnancy prior to a heartbeat.
Georgia governor Brian Kemp kicked off anti-abortion month on May 7, proudly signing a similar law into effect. Both Alabama and Georgia made exceptions for cases in which the pregnant woman's life or health would be in danger.
"(The bill) is very simple but also very powerful: a declaration that all life has value, that all life matters, and that all life is worthy of protection," Kemp said at the time. "I realize that some may challenge it in a court of law. But our job is to do what is right, not what is easy. We are called to be strong and courageous, and we will not back down. We will always continue to fight for life."
People are outraged about this latest blow to women's rights — and rightfully so.
Many of the other Democratic presidential hopefuls, including Cory Booker, are making abortion one of their biggest platforms of the upcoming elections, but we can only pray that anti-abortion laws don't sweep the nation before it is too late.