Mom Adopts Hospice Babies To Make Sure They're Loved In The Time They Have Left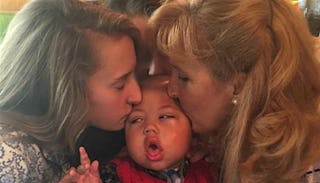 Wisconsin mother Cori Salchert and her family adopt terminally ill "hospice babies" to give them the family they might otherwise miss.
I do not know what the criteria for sainthood are, but it is hard to imagine a more noble calling than that of this Sheboygan family that has been intentionally adopting terminally ill babies to give them a family and the best possible life for the very brief time they have.
Having a terminally ill child with a very short life expectancy has to be one of the most terrible and painful experiences a person could go through, but according to Today.com, Wisconsin nurse and mother of 8 Cori Salchert and her family have signed on for just that, and they've done it multiple times.
Salchert told Today.com that some "hospice babies" are left without families because their parents cannot bear to watch their children die, so they "step away." The babies might spend their short lives in hospitals with no real family, so Salchert decided that her calling, and that of her family, was to provide these babies with a family for as long as they had.
Salchert has eight biological children, and she worked as a nurse and a perinatal bereavement specialist and with Hope After Loss, which was created to support grieving families that lost babies or pregnancies. In 2012 she adopted her first baby when she was told there was a 2-week-old baby girl with no name and nobody to take care of her.
The baby girl's condition was like something out of a nightmare. She was born without the right or left hemispheres of her brain. She was in a vegetative state and could not see or hear and only responded to pain stimuli. It was a tragedy.
Salchert brougth the baby girl home and named her Emmalynn.
"She could have died in the hospital, wrapped in a blanket and set to the side because she was being sustained with a feeding pump. But we brought this beautiful baby home to live, and live she did," Salchert said.
Emmalynn lived for 50 days surrounded by parents and eight siblings, and when she passed, she was in Salchert's arms.
While grieving Emmalynn, Salchert and her family made the amazing decision to go through it all again, and they adopted Charlie, an adorable little boy who already ahs brain damage and lives on life support. He has to breath through a tiny straw and has been resuscitated 10 times in the past year. Doctors don't expect him to survive another one. But still, Sachert loves him and says she feels blessed to have him in her life.
"For years, I had wanted to care for babies who had a life-limiting prognosis like Charlie or a terminal diagnosis like Emmalynn," Salchert wrote. "What a gift it is to be a part of these babies' lives, to have the ability to ease their suffering, to cherish and love them even though they aren't able to give anything tangible back or even smile in return for our efforts."
Salchert is amazing. This isn't the sort of thing most people could bear even once, and what she and her family are doing for these babies is nothing short of extraordinary.