This Mom Who Breastfed Her Baby Right After Finishing A Triathlon Deserves All The Medals
by Megan Zander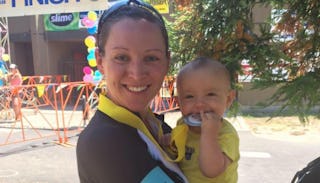 Mom shares inspiring photo breastfeeding immediately after completing a triathlon
When Katrina Bolduc crossed the finish line of her first postpartum triathlon, she was thrilled to see her husband and and seven-month-old son, Grayson. She grabbed her finishers medal and some water, but before she could celebrate her victory her husband mentioned the baby was hungry. Bolduc breastfed him then and there, because a mom's job is never done — even when she's sweaty, wet and really deserves a long, hot shower.
She asked her husband to take a picture and shared the image on the popular Facebook page, Breastfeeding Mama Talk.
Posted by Breastfeeding Mama Talk on Sunday, July 24, 2016
For Bolduc the moment was about more than her completing the first triathlon she'd competed in since becoming a mom (and the fifth one she's ever done). It was also celebrating her newfound comfort with breastfeeding in public, something that didn't come naturally to her. "I feel more comfortable in general over the past few months breastfeeding." she tells Scary Mommy. "It's become so much a part of my day that I don't actually worry about when or where it happens like I did before." Just like with training for one of her running events, with learning to get comfortable with breastfeeding in public it was practice makes perfect.
As a yoga instructor, fitness has always been a large part of Bolduc's life. Once she had Greyson she had to adjust her workouts to adapt to his needs. She's run three 10K races since his birth, two of them with Greyson along for the ride in his stroller. For this triathlon she would squeeze in training while her son was napping. When he was awake, she she rode a stationary bike while he played with tons of toys in a bouncer. When he needed to be fed, changed, dropped a toy, or just wanted to be held, she stopped riding to go to him. "I just focused on what I could do each day and I didn't worry about what I didn't do or didn't finish," she says. Whether you run every day or think 'couch potato' is an legitimate yoga position, we should all make this our life motto.
Pursuing her fitness goals after becoming a mom gave her and extra boost of self-confidence. "I was so overwhelmed with pride when I finished my race. I was back out doing triathlons, and even beat my fasted sprint triathlon time — even with my mom bod," she jokes. Having more self-confidence over all helped her feel more sure about her mom skills. "It was a very positive experience for me all around," she says. "It gave me a huge confidence booster in my ability to be an athlete and a mom." And that new found self-confidence has helped her feel more comfortable breastfeeding in public.
Bolduc says she plans to do more running events and triathlons in the future, including another marathon, though she knows the training will be tricky with a little one in tow. Something tells us that if anyone can handle it, it's this mom.
This article was originally published on