Mom Misidentifies The Family Dog And Twitter Can't Stop Laughing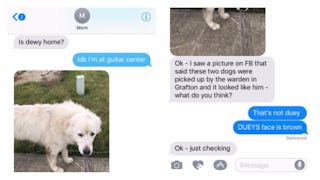 Image via Twitter
She wasn't just a little off — she was way off
In possibly the most viral tweet we've ever seen, a son shares the hilarious tale of his mom proving she has no clue what her own dog looks like.
Be prepared to die laughing. This entire story is simply amazing.
RELATED: 10 Precious Puppy Coloring Pages For Kiddos Who Want A Dog
Moms have a lot of shit on their minds. We can't be expected to know everything, and for one mom, that includes small details such as, what the family dog looks like. Jeff Squires shared photo and text evidence of his mother's dog identification fail, and it immediately blew up on Twitter — over 200,000 retweets and climbing.
"Yesterday I learned that my mom has no idea what our dog looks like," Squires tweets.
In a screenshot of a text exchange, we see Squires' mother asking if their dog "Dewy" is home. Squires says he's at the guitar center so he's not sure of their dog's status, and that's when mom shares her worry that he's gone missing.
It was after seeing a photo on Facebook of a lost dog picked up by the local warden that she became concerned about good ol' Duey (it's confirmed in the Twitter thread that mom messed up his name too), but Squires was quick to put her fears to rest. Because that dog is definitely not Duey.
Squires corrects his mom and then proves his point by showing Twitter a photo of the family's actual dog who looks absolutely nothing like the lost pup. Not the same coloring. Like, not even the same breed.
Squires is in total disbelief at his mom's epic fail.
And Twitter is in complete hysterics.
https://twitter.com/jetpack/status/880084349995151361
They're also (hilariously) trying to help locate "missing" Duey.
https://twitter.com/jetpack/status/880294113177772033
Even Guitar Center weighed in.
And at least one Twitter user commiserated with proof of their own parents totally forgetting what the dog looks like.
https://twitter.com/jetpack/status/880270427716714496
If nothing else, at least Squires can now rest easy knowing he's not alone in having a mom who can't recognize the dog. And we can all have a good laugh.
This article was originally published on