Mom Mistakes Purse For Adorable Dachshund, Twitter Can't Stop Laughing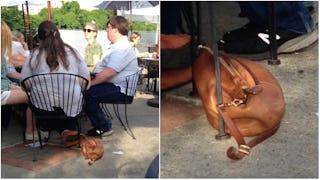 Image via Twitter
Someone's mom swooned over a cute dog until she realized the dog was a someone's purse
A woman is sharing photos of the cute little dachshund her mom saw resting at someone's feet in a restaurant, because the dog her mother was looking at was actually another woman's purse.
The internet is here for it.
RELATED: These Cute Dog Sweaters Are The Paw-fect Layer For Your Canine Companion
Hannah Murphy was enjoying a meal on a restaurant patio with her mother when mom insisted she take a peek at the adorable little doggy resting underneath another patron's chair. Hannah followed her mom's gaze, because who doesn't want to scope a cutie patootie pooty dog?
Except the darling mutt Momma Murphy was swooning over wasn't actually a dog at all. It was a purse.
Honest mistake, right? Sure.
Hannah's tweet has gone viral, having been retweeted more than 45,000 times and liked by more than 134,000 people. Everyone is enjoying the laughs, and many are sharing similar cases of mistaken identity.
Some people offered proof.
One woman was unembarrassed by this fairly embarrassing mistake…
Other people's confusion is slightly more acceptable?
What a shame. That would have been one fabulous dog!
As for this guy, I'm just glad there was no dog involved in the grilling!
https://twitter.com/jetpack/status/892009692922355713
And let's not forget our feline friends. But I wouldn't tell this cat you thought a lump of clothes were him. By the looks of him, and based on our knowledge of every other cat on earth, he will hold a grudge.
We hope Hannah's mom isn't too embarrased by her viral fame. After all, not only is it understandable that one would be on the lookout for pettable pooches, but it's clear that this is not an isolated phenomenon.
Besides, it could have been worse. At least Hannah's mom only saw a little dog. Mollie here thought the restaurant allowed actual wildlife onto the premises.
She could probably use some laser surgery.
But as all those tweets make clear, everyone has made such innocent mistakes.
One time, before I put my contacts in, I had an entire conversation with an air horn before realizing it wasn't my toddler. In my defense, the noise they both make is remarkably similar.
This article was originally published on