To The Mom Standing Over Her Premature Baby In The NICU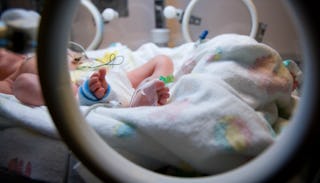 AndyL / iStock
I know you're worried.
Scared.
Feeling unsure and defeated.
I know, because I was there.
My twin sons, Jacob and Zachary, were born seven weeks early on a very cold January day in Boston. Doctors said premature white baby boys do worse than other demographics. That scared the shit out of me. After a few days, mine were breathing, crying, burping and pooping without problems. They latched on immediately and began nursing successfully.
I felt lucky and looked forward to taking them home.
Then the doctor called and said, "Jacob is acting funny."
That was the hardest night of my life.
I couldn't understand what was happening, and no one had answers. Doctors withdrew blood, and my babies didn't cry so much as shriek—heartbreaking and terrifying noises from tiny little creatures who just wanted to be held and loved.
I shrieked a few times myself.
In the morning, doctors figured it out. Jacob and Zachary had RSV, a common cold in adults, but dangerous for premature infants. Both boys fought to get well. Watching them struggle to breathe, while machines consistently beeped heart rates and oxygen levels, was a frightening ordeal.
Nurses and doctors worked around the clock. My mother and husband made sure I slept and ate enough to pump a steady supply of milk and stay strong. Prayers and positive thoughts came from countless friends and family members.
I rocked in the NICU, crying and hoping for my babies to get better. Often, I would look up at the walls and see letters posted from parents—thank-you notes. I walked over to the pages and pictures, gently taped up for everyone to read, and let my fingers drift over the smiling faces of toddlers and teenagers. I'd eagerly read about little girls in ballet performances or boys celebrating a bar mitzvah. In each letter, proud parents wrote about healthy children, born premature with challenges to overcome and how they did just that. Happy stories filled with triumph and gratitude.
Those stories kept me going.
Every day it seemed, nurses would tape up a new card or letter, accompanied by a picture, and I would rush over to the wall. I was a new mom, facing an uncertain future, and some of my despair melted away thanks to these strangers.
I promised to do the same. I made a vow, privately but sincerely, that if Jacob and Zachary got better, I'd write a letter every year for 18 years and pass along some of that same encouragement.
It's a debt I'm happy to repay. Sixteen years later, I can still see those little babies surrounded by dedicated nurses and doctors. I can still feel the anxiety of nervous parents. I know you're there, in that room with beeping machines.
I hope this letter provides you some well-deserved comfort during so many long days and sleepless nights. Here's what I want you to know:
Our babies left the NICU after four weeks. We strapped them into car seats and took them home.
We watched them around the clock, concerned and easily alarmed.
Jacob and Zachary smiled right away. Then they sat up, crawled, walked and started running—right on time.
We felt more secure as parents, less alarmed.
Our boys grew, found their belly buttons and eyes and mouths.
They cried when fake snakes came out of the cans on Sesame Street.
They pooped in the tub.
Zachary bit Jacob when they started teething, and Jacob accidentally stuck a toy in Zachary's ear when they were playing.
I'm told that's completely normal.
They played tee-ball and danced to censored Beastie Boys songs.
They grew stronger every day.
They did well in elementary school and made National Junior Honor Society in middle school.
Jacob played upright bass and brokered peace agreements between friends who argued about everything.
Zachary played viola and threatened to beat up anyone who picked on his brother.
Jacob won Best Delegate during Model UN competitions in New York.
Zachary won Best Actor in District Thespian competitions.
They said things like, "Yes sir, Captain Mommy," because they liked to see me laugh.
They started high school last year.
They make honor roll.
They play on the tennis team.
They are funny and sweet and opinionated and spend way too much time on their phones.
Jacob is over 6 feet tall and plays basketball on city courts.
Zachary is 5 feet 11 inches tall and imitates Paul Giamatti and Adam Sandler.
Both are healthy and strong.
These are the things I worried about on that cold January morning so long ago. These are the things you're worrying about now, as you stand over your babies in beds that are way too big for them. Trust that your doctors and nurses, a stellar support system, and more than a few prayers and positive thoughts will keep you going. Here's hoping that one day, you too will write letters with your own happy endings.
With my whole heart, I am sending you the warmest of wishes.
And to our former doctors and nurses, I'll talk to you again next year.
This article was originally published on