You Need To Know What I Saw When I Volunteered At The Border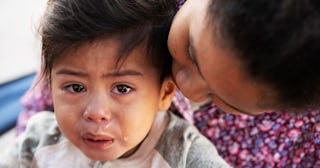 LEXIE HARRISON-CRIPPS/AFP/Getty
"Por favor, Señora, para mi bebé," pleads the teenager in front of me, no more than 16 or 17 years old, holding what looks like a one-year-old. Sweat is mixing with sunscreen on my forehead, dripping into my eyes and making them sting. The four bags of Pedialyte in my hands are getting heavy to carry.
"Good morning, how old is this cutie?" I ask in Spanish.
"She's two and a half," responds the teenager. I quickly process the following thoughts: (1) how is that tiny sack of sugar two and a half years old? (answer: malnutrition) (2) how is this teenager parenting a toddler? (answer: rape is quite possible), and (3) how do I tell her that the Pedialyte is meant for the really sick babies under one year old? (answer: I don't — I quietly hand her the Pedialyte, hoping other volunteers don't notice).
It's high noon on a sweltering Tuesday at the base of the Gateway International Bridge in Matamoros, Mexico, at the edge of the Rio Grande. My mom and I became tired of reading the headlines about the border crisis and decided to come see it for ourselves. I left my own cherubs at home in Seattle with my husband, and my mom and I set off for Texas. We planned on volunteering at humanitarian shelters on the Texas side of the border, but due to the Trump Administration's "Remain in Mexico" policy, thousands of migrants now live in squalid and dangerous tent encampments just feet from our southern border.
What does this mean in mom-speak? It means there are mountains of donated diapers, wipes, and clothes, as well as medical, legal, and logistical support, waiting mere miles away in nearby respite shelters on the US side of the border for families who desperately need them but can't get them. It means watching the birds fly freely over the border fence, wishing you could give them your babies to carry to safety.
On that particular Tuesday, my mom and I tag along with a group from Texas Impact's Courts and Ports program. We park near the Brownsville bus station and walk across the bridge to Matamoros. The Mexican authorities only allow us to bring what we can carry, so our backpacks and bags are bursting with supplies to distribute. At the base of the bridge on the Mexico side is a densely packed tent city as far as I can see.
I was not quite mentally prepared to step into the epicenter of an international humanitarian crisis. My heart is racing as I take in the acrid smell of unwashed bodies and human waste, the crowds of children clamoring for the smallest of tokens from a volunteer's backpack, the vacant eyes of parents who are out of options. About 2,000 people are living in this encampment, and about 100 new arrivals join every day. There is no regular NGO presence or other systemic oversight. There is no food or water available, other than what volunteers bring in from Brownsville by hand (most regularly by Team Brownsville). Imagine your boiling frustration in the midst of the worst customer service experience you have ever encountered, where you're trying to follow the process but the system seems inexplicably convoluted and designed to deny you a remedy. Now multiply that by the survival of your family, and liberally sprinkle in exhaustion, trauma, sickness, and, oh yes, a requirement to pursue your remedy in a foreign language. This vastly under-approximates the situation, but even in this, I wouldn't make it long.
Despite this, moms are momming it up everywhere I look. A mom grabs her toddler who has stepped off the curb into the flow of traffic. A mom vigorously washes clothes for her family in the Rio Grande, pounding them against a rock. Moms are waiting in line for a small plate of food. A young mom softly sings in the ear of her sweating baby. An abuelita is sharing a rare piece of fruit with her grandson. A sick baby lies motionless his mother's arms as she strokes his hair. A pregnant woman tries to find the shade. A mom helps her three children bathe at the edge of the river. A young indigenous mom walks at the edge of the tents, nursing her baby who is swaddled in a makeshift baby carrier tied out of a tattered sheet.
Consider how desperate things must have been for these moms to decide that the best option available was to embark on a dangerous and uncertain journey to a country that puts migrants in prison, oftentimes separating parents and children (yes, this is still happening). And yet nothing about what they are doing is illegal – these refugees are lawfully presenting themselves at a port of entry and seeking asylum, which is perfectly legal. These migrants want to follow the law because they know better than most Americans the value of a country based on rule of law. One mom living in Matamoros fled Cuba with her son because she was jailed for not removing her son's birthday decorations from her house and replacing them with pro-Cuban signs. Another mom left Honduras after her older son was killed by gang members because he refused to join. Yet another carried her 14-year-old daughter with cerebral palsy all the way from El Salvador after their home had been torched by gangs. These mothers see the United States as their best shot at a life free from torture, violence, and abuse.
But what I saw at the border was not rule of law, but rather further persecution of the persecuted as migrants are forced to wait in one of the most dangerous cities on earth (the State Department Advisory for Matamoros is "Level 4 – Do Not Travel," the same level as Syria and North Korea). We learn from a group of parents that a seven-year-old girl was recently kidnapped from the encampment by a cartel, and she was raped before being returned. Kidnappings and violence are rampant here at the hands of the cartels, and the ugly irony of having fled extreme violence in their homeland only to be quite literally trapped in even more violence is not lost on these migrants. Nor is the fact that their camp sits underneath a large road sign that cheerfully reads "Feliz Viaje," wishing those lucky enough to travel across to the US a nice trip.
There are radical acts of hospitality being practiced by mothers who do have passports that allow them to easily cross the border. Our volunteer team included a pediatrician from Oregon who came to the border for a week. Wearing her scrubs, she used her deep well of motherly patience to see a steady stream of children and adults in the camp every day, giving each one individualized attention and buying them the medications they needed at the nearby pharmacy. There are lawyer moms who tirelessly represent asylum seekers at the border through organizations like Lawyers for Good Government's Project Corazon and Al Otro Lado while simultaneously advocating for an asylum process that actually reflects our constitutional values. And there was the retired teacher from Michigan, who came the border to offer a helping hand in honor of her daughter, who died as a young adult. These moms are now my role models for engaging in hospitality as resistance, welcoming and protecting those in need of sanctuary.
Regardless of national origin being north or south of the Rio Grande, the moms at the border love their children fiercely. This obvious truth was comforting but also shamefully inconvenient: if their maternal love runs as deeply as mine, then the suffering I witnessed becomes deeply personal. Between kids, marriage, work, laundry, cooking, and shabby attempts at exercise, I didn't have time for personal. I needed this experience to stay neatly inside the box I had sensibly budgeted to it. But what I have found is that by throwing aside my defense mechanisms and bearing witness at the border with vulnerability and love, I have tapped into new conduits of energy flowing beneath the surface of my day-to-day existence. Their stories have created a spaciousness in my heart that allows me to slough off my old excuses and instead turn my passive empathy into small but tangible action.
Moms seeking refuge at the border have persisted across a web of systems and countries designed to break them down and either kill them or make them give up hope, all because they want their babies to know democracy, freedom of speech and religion, and yes, justice for all. Heartbreaking? Profoundly. Inspiring? Unequivocally.
This article was originally published on