Come On, Mom, Let's Go Shopping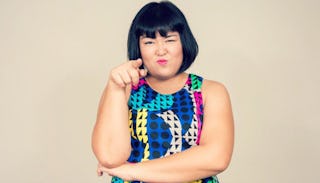 amazingmikael / iStock
Hey there, mama, have you been staring into your closet lately feeling frustrated? Is it a chore just to get dressed every morning because nothing fits or is torn or stained? Maybe time and money are tight, but guess what, I am going to tell you something: You matter too.
Go take your ass shopping. Stop with the excuses. Every woman deserves to feel good about how they look.
How often do you get so caught up in being a parent and always doing for others that you dismiss yourself? As mothers, it is easy to fall into the habit of putting ourselves after everyone else. We do it so much that often we don't even notice. A good wake-up call can be taking a peek in your closet and realizing you have absolutely nothing to wear.
It is important to dress the part — the part of you that says, "I look fucking fabulous in this outfit, and I deserve to feel this way more often."
If you don't have something that makes you feel beautiful, make a plan right now to go shopping.
If you are staring into your closet and not seeing anything that looks like something you want to wear, go get something that does. If you are thinking about canceling that long-awaited date night because you have nothing that works, go get something ASAP.
If your bras and undies are so frayed that your lady bits are popping out everywhere, go get some new ones.
If you are too tired, hate to shop, or are just dreading the dressing room, find someone to go with you who will make it fun. If you are desperate for a new pair of comfy yoga pants, go indulge. If you don't have a pair of jeans that make your ass look delicious, you need to go find some. If you don't have a dress for an upcoming special occasion, I implore you, go get one. While you are at it, get yourself some badass shoes.
Remember, you don't have to study yourself under the fluorescent lights. Know that it doesn't matter what size you are. Don't ever think should not get yourself something new simply because you are not the size you want to be. Dress the luscious figure you have at this moment. If you aren't loving your reflection, think about all of the beautiful parts of you, inside and out. Look at them, see them, notice them. Now go find something to put on your body that makes all of these parts of you stand out.
As a mom, as a woman, you are worth it. It doesn't matter if you stay at home or if you work — you deserve it. You count too. Let the guilt go. It can be hard to invest in ourselves, but since when has it become acceptable to ignore our own needs and wants?
No, life isn't about things, or our stuff, but it is about feeling your best and taking care of yourself too. Every woman has a style that should be showcased. And dressing in a way that makes you feel amazing, no matter what that looks like, can help the way we feel about ourselves tremendously.
What you are able to bring to others when you feel good about yourself is valuable. Everybody loves the way they feel when they like how they look, and mothers deserve to feel good.
This article was originally published on