Kristen Bell And Jennifer Garner Talk Parenting
by Julie Scagell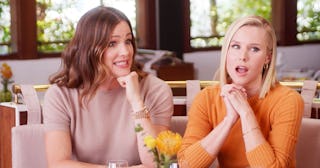 EllenTube
Kristen Bell and Jennifer Garner are hysterical trying to give advice to other moms
There aren't many celebrities people can relate to more than Kristen Bell and Jennifer Garner. The two seem so down-to-earth as women and mothers, both regularly sharing parenting highs and lows on social media. So, when the two sat down with some other moms and soon-to-be moms on Bell's show, Momsplaining with Kristen Bell, you can imagine the hilarious story-sharing that took place.
The Daytime Emmy Award-nominated Momsplaining with Kristen Bell is back for a fourth season, returning to ellentube today. The digital comedy series, produced by Ellen Digital Network and starring the hysterical mom-of-two, is a must-watch in general, but having Garner as a guest makes it even better.
In the premiere episode, Bell and Garner give advice to three moms in different stages of motherhood. From birth plans ("throw them out," says Bell) to toddler tantrums, the duo dishes out some solid and very real advice for anyone looking.
"Does it get easier?" Bell asks, given Garner has older kids, ages 13, ten, and seven. "Look, I'm not wiping anyone anymore," Garner says, which every mom of young kids can appreciate, admitting things get more complicated the older kids get. Bell chimes in that hers are four and six and can be "real shitheads" sometimes. Bless.
The conversation then shifts to pregnancy, and the soon-to-be mom, Emilie, admits she's a bit nervous about labor. Garner says she thinks it's the "most romantic day you'll ever experience," swiftly getting the side-eye from Bell. "You're a better person than I am. I was going to say it's going to look like a homicide," Bell says, laughing.
They stop for a brief water-breaking game after Bell admits she went to the hospital thinking hers broke but she actually just peed her pants, then the conversation turns a bit more serious. When mom Deanna asks the pair when she'll begin feeling like herself again after having a newborn, Bell and Garner agree, "Never," but it's through talking and connecting that we all make it through.
They also touch on public tantrums because one of the moms has kids 11 months apart (bless her) and Bell said she takes the advice of her husband, Dax Shepard, who said to treat the kids like the hot girl in high school — just ignore them and they'll come to you. She said she thought it was stupid when he said it, but it actually works. Solid advice.
This season of Bell's show looks to be as hilarious and endearing as the others. To check them out, head on over to ellentube. You won't regret it.
This article was originally published on