Even More Ways To Keep Your Child Warm AND Safe In The Car Seat This Winter
by Wendy Wisner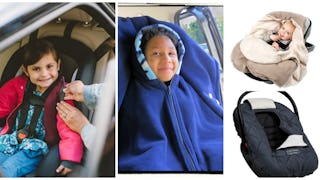 Buckle Me Baby Coats (left image) / The Car Seat Poncho (middle image) / Amazon (right images)
Unless you've been living under a rock, you probably know by now that it's super-duper important not to dress your kid in puffy winter coats or snowsuits in the car seat.
The average puffy coat adds up to 4 inches of extra bulk to the car seat harness. The reason why this is a problem is because in the event of a car crash, air gets pushed out of the puffy coat, and your child suddenly becomes too loosely strapped into their car seat. This means that they could easily be propelled out of their seat during the impact of a crash, resulting in injury or death.
RELATED: The Best Toddler Chairs For Keeping Your Kids Comfy— And In Their Own Zone
And with car crashes being the leading cause of death among children, none of us should take this lightly for one second. At all. Even if it feels like a pain sometimes to adhere to this rule (believe me: I get it!), convenience should never take precedence over our children's safety.
A few weeks ago, I wrote about this topic, and even listed a few alternative ideas and products to get around the "no winter coats in car" rule. Still, there were some parents out there—especially ones who live in very cold climates—who simply could not imagine dressing their kids in the car seat without a fluffy winter coat.
But buckling up without a puffy winter coat doesn't mean for one second that your child needs to be cold in the car seat. There are so many options out there to keep your child toasty warm, and most are inexpensive and convenient.
In my previous article, I listed a few (2-4 thin, tight layers of warm clothing; thin fleece jackets; a coat specifically designed for the car called OneKid Road Coat; and "packable" coats like this, which don't add extra bulk to the car seat). It turns out, though, that there are quite a few MORE products out there designed specifically to address this problem.
Ready? Here we go.
Buckle Me Baby Coats were invented by a mom from New Hampshire named Dahlia Rizk who was tired of having to take her kids' winter coats off every time she got into the car. That's when she had a lightbulb moment: "Why does the zipper have to be in the middle anyway?" she thought. And with that, the idea for the Buckle Me Baby Coats was born.
Full disclosure: I received one of these coats myself, and I love it! Because it buckles up on the side, you can dress your child in the coat when you put them in the car. Then, when you put them in their seat, you open the coat, move the coat fabric aside, and just strap them into their harness without the coat underneath. Genius! The harness is tight against their body, and then the coat can be closed up again once they are harnessed in. The back of the coat is less bulky than the front, so no extra bulk is added there.
The coat has been crash tested and given a seal of approval by several Child Passenger Safety Technicians. And the best part? It is designed and manufactured by a busy mom of three, who built her company herself from the ground up.
The 7am Enfant Nido is a car seat cover that you use after you safely buckle your kid in their car seat. That way, your baby can be bucked in snugly and you don't have to change the straps at all to keep them warm. The Enfant Nido is made of warm fleece, and looks totally snuggly and toasty to me—kind of like a baby swaddle for the car. And a car seat-safe one at that!
The 7am Enfant Nido should not be confused with something like the Bundle Me, which, as The Car Seat Lady explains, is actually a big no-no in the car. Bundle Me-type car seat covers actually have a layer of fluff that goes under the child's body, which is not where you want extra bulk to be, because the bulk renders the straps too loose around your child's body.
The Car Seat Poncho was designed by Donna Eng, a NHTSA-certified Child Passenger Safety Technician. You place the poncho over your child after you've safely buckled them in. It stays in place much better than a blanket would, especially for a child who tends to kick blankets right off.
And let me tell you, this thing looks warm. It's made of two layers of 400-weight fleece, and has a hood too. It's designed to keep kids warm in very cold climates. As the manufacturers explain on their website: "It keeps kids warm in places like Chicago, Minnesota, Wisconsin, Alaska, Calgary, Saskatchewan, and dozens more — where sub-zero cold and icy winds are a fact of life!"
I don't know about you, but I kind of wish they made these in adult sizes. I would happily hang out in one of those until winter is over.
Cozy Covers are what are sometimes referred to as "shower cap" style car seat covers. Basically, you strap your kid in safely, and place the cozy over the seat. Its elastic edges snap snugly over the seat like a shower cap, and you are good to go.
But Cozy Covers add a little more warmth than most other "shower cap" covers for infant seats. Some varieties are made of warm polar fleece, and are well-insulated from the elements. The two zippers on the side made it easy to get quick access to the car seat straps (and your baby). Depending on the weather, you can dress you baby in a few warm layers, and then zip them into this thing, where they will be toasty warm.
Side note: Whatever you use to keep your child warm in the car, you need to take care not to overheat your child. I think when we are told we can't use puffy winter coats in the car, we tend to over-do it in the warmth department to compensate. Remember that even in the coldest temps, cars are warmer than the outside, especially once the heat comes on.
Have I convinced you yet that there are plenty of options out there to address the problem of "no puffy coats in the car?" These are just some of the products made to address this issue. And there are more coming out often—because everyone is catching on to the fact that is an issue we all need to take with utmost seriousness.
Again, safety isn't a choice when it comes to our kids. It may not always feel easy or convenient, but our precious kids' lives matter more than anything else in the world.
Editors may receive samples and/or a share from purchases made via links on this page. All opinions are our own.
This article was originally published on