What Mother's Day Really Means To A Father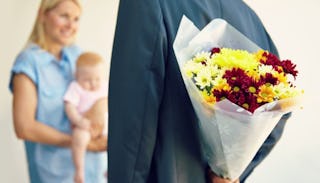 PeopleImages / iStock
I didn't fully appreciate Mother's Day until I became a father. I watched my father walk out on my mother when I was 9 years old. He admitted to an affair, then he packed his bags. He didn't pay child support. He didn't come by much and eventually died while he was in the process of divorcing his fourth wife.
My mother made a lot of sacrifices for our family after my father left. I was raised partly by my mother, and partly by my grandmother. My mother worked two, sometimes three, jobs to make ends meet, while my grandmother stayed up late waiting for a teenage me who decided to miss curfew far too many times.
By the time I got married, I was very confused when it came to mothers, fathers, and marriage. This was why I didn't really appreciate Mother's Day or Father's Day. I saw family as a confusing mix of people who came and went depending on the season. I wasn't prepared to watch someone be so dedicated to me and my children as my wife has been for the past 11-plus years.
There's a quote going around from Chris Hemsworth: "Watching her be a mother made me fall even more in love with her." There is something so honest and true about that statement.
Both my wife, Mel, and I are in our mid-30s. We have three young children. Over the years, we have gone through many different financial arrangements. We both worked while I went to college. Mel stayed home with the children while I finished graduate school. Once that was done, I stayed home with the kids while Mel worked an internship and went back to college. Now, I work while Mel is finishing up her degree. We both pitch in with the kids at night. We work as a team.
After watching my own parents fight over everything from free time, to money, to infidelity, I was a little blindsided by how well Mel and I work together. I didn't realize how much work raising a family took until I was in the middle of it, and having a loving partner at my side has made the challenges of raising a family—the hardest thing I've ever done—a wonderful voyage of frustration and laughter, where I've had the opportunity to see the woman I love grow into the mother of my children.
There is magic to Mel's touch. Just a few days ago I was about to crack while trying to get my toddler, Aspen, to calm down for a nap. She was a booger-y mess. Mel came home from class, took the child, and Aspen buried her blonde head into Mel's shoulder and let out the most relieved whimper, as thought my wife were a cool glass of water. Mel held her on her hip for some time, swaying side to side, soothing our daughter with one hand while working on a term paper with the other. Every time I see her do something like this, I am in awe. I am shocked at her ability to multitask, the magic of her touch, her ability to focus on her own future while still focusing on the needs of her family.
There is something wonderful about the way she listens. I have seen her stressed and tired and un-showered, pause what she is doing—whether working on a college assignment or making dinner—and crouch down to listen intently to our middle daughter, Norah, go on a long tirade about how horrible her life is because we won't buy her a Disney Princesses karaoke machine.
I've seen Mel frustrated. I've seen her cry from exhaustion. I've seen her laugh hysterically because of something so silly and ridiculous that our children did, that she sounded like a madwoman. She is, hands down, the most compassionate and giving person I have ever met, and when I think about that, and I think about everything my mother and grandmother did for me after my father left, I am so grateful to have had a mother's love in my life.
This Mother's Day, I'd like every husband, father, and child reading this to think about the mothers who have touched their lives. Because here's the thing, if my father walking out on my mother has taught me anything, it's that Mother's Day is a yearly reminder that there is something unparalleled and wonderful about a mother and what they do for their families. There is something so intangibly beautiful about someone willing to love the people around them without hesitation.
Because the crazy thing is, what Mel does for our family is nothing unusual. Mother's have been doing it for generations. Mothers are so dedicated to the people they love that they are willing to sacrifice time, sanity, hygiene, passions, friendships, sex life, really anything for their family. And I know there is talk out there about motherhood being a sort of servitude, and I can see how someone with that mindset could read the list of sacrifices I just wrote and it would add fuel to that argument. But that's not why I'm writing this essay. I'm writing it so that those who have a dedicated mother in their life can take a step back and realize just how wonderful that person is and give them the credit, love, and a child-free trip to the day spa they deserve.
This article was originally published on