22 Inspiring AF Movies About Female Friendship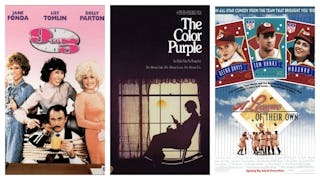 LEFT: IPC Films, Twentieth Century Fox; CENTER: Amblin Entertainment, The Guber-Peters Company, Warner Bros.; RIGHT: Columbia Pictures Corporation, Parkway Productions
You know you've got a great "gal pal" when after you grab drinks or go out to a movie she says, "Text me when you get home safe," or she calls you out of the blue to ask, "How are things going with that guy?" or she reminds you at 2 a.m. (while you're crying), "You deserve better than that," or she simply texts to say, "I just wanted to check in; how are you doing?"
In other words, you know you've got a best friend when she becomes your go-to "person" in good times and in bad.
With strong female friendships like Christina Yang and Meredith Grey's of tv-hit Grey's Anatomy, Leslie and Ann from Parks & Recreation, Taystee and Poussey from Orange is the New Black, or Grace and Frankie from Grace & Frankie, women now (more than ever) have diverse representations of supportive, pop-culture friendships to look up to.
Many of us have also joined a new wave of empowerment – with the Women's March, the #MeToo movement, and new women-focused holiday's like "Galentine's Day." (Yes – some of us now celebrate a fictional Valentine's Day that is all about celebrating your awesome female friends! Thanks, Amy Poehler!)
So, I thought it was about time I make a list of 22 films that I think do a great job at teaching women (and all people) that women don't have to be enemies or put each other down to be successful, popular, or to co-exist. These films, although all unique, all exemplify that when you put popularity and attraction aside, nothing is quite as powerful as a bond between female friends.
1. 9 to 5 (1980)
There's no friendship quite like Doralee, Violet, and Judy's from 9 to 5. Taking on their sexist male boss, these three women get up to a whole lot of trouble (and hilarity) together. No matter how different they might be, a secret creates a bond that will last a lifetime.
2. Bridesmaids (2011)
Annie may go through a rough time supporting Lillian's wedding, but at the end of the day, they both make a few new friends and always have each other's back. Bridesmaids teaches us that competition can be toxic, and it's more important to build women up than tear them down to get ahead.
3. How to Make an American Quilt (1995)
Finn Dodd is preparing to be wed, but thoughts of single freedom take over. Travelling home to find clarity, Finn learns about love and life from a group of her Grandmother's quilt-making friends. She quickly discovers that the true meaning of love is much more than attraction or doing what you think you're supposed to do.
4. Mona Lisa Smile (2003)
A progressive art professor must teach a group of conservative women in the 1950s. Challenging social norms, Mona Lisa Smile examines female empowerment and living for more than just to serve a husband.
5. Bring It On (2000)
A high school cheerleading squad must come together to create a brand new routine for the championship finals after discovering their old captain stole their choreography. In Bring It On, women realize rivalry isn't a good thing.
6. Legally Blonde (2001)
Elle Woods is more than just a pretty face. With the support of her friends, she realizes there's nothing she can't do – including getting into Harvard Law! Putting popularity aside, Elle experiences humility and learns that scoring the hottest guy won't fulfill her.
7. Sisterhood of the Travelling Pants (2005)
Bridget, Carmen, Tibby, and Lena are all best friends, no matter their differences. They also somehow all fit into the same pair of magical pants. No matter where they go in life (and love), the travelling pants keep them connected.
8. Thema & Louise (1991)
After a terrifying assault, Thelma and Louise take to the open road to avoid being charged with murder. If they go down, they vow to go down together.
9. Beaches (1988)
Two friends, a friendship full of competition and fighting spans 30 years. However, although life takes them in different directions, Hillary and Cecilia would do anything for one another, no matter what.
10. The First Wives Club (1996)
Elise, Brenda, and Anne reunite after 30 years to mourn the very tragic death of their friend from college. Determined to ensure no woman ever has to become the "first wife" and suffer like their departed friend, the three make a plan for revenge and revive their friendship along the way.
11. Romy & Michele's High School Reunion (1997)
Inseparable BFFs Romy and Michele head to their 10-year high school reunion and feel they must formulate an elaborate lie to impress those they haven't seen in years. Throughout their misadventure, they learn a lot about themselves and who they want to be.
12. Steel Magnolias (1989)
Steel Magnolias will make you laugh and cry as a group of Southern women support one another through good times and bad. As time passes, the women grow closer and closer, sharing and surviving milestones hand in hand.
13. Clueless (1995)
Popular Cher relies on her BFF Dionne and new friend Tai to navigate high school and love. Over the course of the film, Cher realizes being popular and being well-liked are not the same thing. She also realizes attraction is more complicated than she thought.
14. The Color Purple (1985)
Fighting against horrific white-male oppression, the women of The Color Purple support one another as they stand up for themselves, demanding basic human rights and independence. In a world of great violence, Shug and Celie bond over their shared experiences and desire to evoke change.
15. Baby Mama (2008)
A single businesswoman hires a surrogate to carry the baby she's always wanted. Over the course of nine months, Kate and Angie realize just how special their bond has become – no matter how different they might be.
16. Crossroads (2002)
Lucy, Mimi, and Kit were childhood friends – they even made and buried a "wish box" to dig up when they graduated high school. However, as they grew up, they grew apart. On graduation night, they decide to keep their promise and open the box and begin to remember the power of their bond. Determined to help one another into their next stage of life, the three embark on a road trip to find Lucy's mother, get Mimi to an audition, and allow Kit to visit her fiancé.
17. Divine Secrets of the Ya Ya Sisterhood (2002)
Four little girls grow into four adult women – still bound by their Ya Ya Sisterhood pact, led by Viviane. Now with children of their own, Viviane's daughter Siddalee comments on her unhappy childhood while talking to a reporter. Hearing about her daughter's unflattering telling of her upbringing, Viviane is outraged, upset, and claims war against Siddalee. Hearing of this trouble, the Ya Ya Sisterhood makes it their mission to reunite mother and daughter – for better or worse.
18. Fried Green Tomatoes (1991)
Ruth and Idgie are friends. So are Evelyn and Ninny. The story that connects them is the telling of the murder of Ruth's abusive husband and the repercussions that evolve thereafter.
19. A League of Their Own (1992)
Sisters Dottie and Kit join an all-girls baseball team during World War II. Together, the team battles all odds and changes the game forever.
20. The Help (2011)
Tensions are high between affluent white families and "the help" in the 1960's South. Set during the Civil Rights movement, fellow maids support one another in their fight for respect. Along with one spunky, white-female reporter, cross-class friendships shake things up for the greater good.
21. Now And Then (1995)
Reflecting on the most influential summer of their lives, Teeny, Samantha, Chrissy, and Roberta revisit their childhood tree house and are reminded of what binds them forever – including the coming of Chrissy's first baby.
22. Spice World (1997)
Spice up your life! Baby, Posh, Scary, Ginger, and Sporty Spice all come together to show that girl power is unstoppable, and friends always come first – even when you are a superstar.
What We Can Learn from Strong Female Films
Each of the above films presents an interesting perspective on female friendships and what it means to be successful and popular. Contrary to popular belief, these "chick-flicks" are less about heterosexual romance and more about independence, the bonds between friends, and the ambition for more than superficial success.
These women also seem to defy stereotypes in many ways. For example, characters like Elle Woods and Romy and Michele begin as "dumb blonde" characters but evolve into much more. These films also break clichés in that women from different walks of life, from different social classes, can become friends or stay friends – even after becoming distant over time.
While some of these films do showcase elements of jealousy, manipulation, competition, or revenge, each group of women either 'grow out of it' or learn the true value of supporting one other – and I think that is invaluable for young women to see.
This article was originally published on