All The Terrifying Movies Like 'Saw' You Need To See ASAP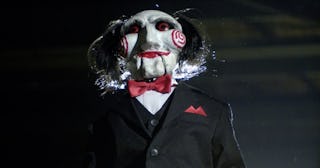 Lions Gate Films
The Saw franchise is not for the faint of heart. Since the original Saw first hit theaters in 2004, it has spawned six sequels and two spinoffs (Jigsaw and Spiral), all of which have upped the sadistic antics of the story's central villain, a serial killer who goes by the name of Jigsaw. But the first movie remains the most daring one of the bunch thanks to its heart-stopping twists and the shocking lengths the characters are willing to go to in order to survive. If you're looking for movies like Saw, then chances are you're in search of another blood-soaked mystery to unravel. Well, you're in luck — there are plenty of films that have tried to capture the gonzo horror energy of Jigsaw's big-screen introduction.
Now, there are quite a few torture-fueled horror movies that have tried and failed to capitalize on the success of Saw. These films usually go all-in on grossing out moviegoers without taking the time to actually delve into the psychology of what makes the characters tick. The best Saw-esque films do both things at once: They make you watch the screen through your fingers while also marveling at the twisted nature of both the villains and their prey. At its heart, Saw is a story of survival — and it is truly terrifying how far the central characters are willing to go to ensure they make it out of Jigsaw's clutches alive.
The movies below are a mix of films that were clearly inspired by the Saw franchise and ones that actually predate it. From the nightmarish gauntlet that the characters of the Escape Room must navigate to the boundary-pushing horror of The Texas Chainsaw Massacre, these movies will all give you major Saw vibes. (And the nightmares that come with them.)
Saw Fans Will Be Obsessed With These Twisted Movies
1. Hostel (2005)
The first movie to capitalize on Saw's success was Hostel, a film that might just make you never want to leave your house again. During a backpacking trip across Europe, a trio of friends search out a Slovakian hostel in hopes of hooking up with the gorgeous women who allegedly stay there. What they find instead is a deadly game designed to trap naïve tourists and torture them for fun.
2. Escape Room (2017)
Escape rooms have become hugely popular in the last few years, but what if you were competing for more than bragging rights when you entered that staged room full of cryptic codes? That's the premise of this 2017 gem, which finds a group of friends trapped in an escape room experience that is all too real.
3. Cube (1997)
Yes, Cube came out several years before Saw, and it certainly feels like it had a major influence on director James Wan. The movie kicks off with a group of strangers waking up in a series of cubic cells with absolutely no memory of how they got there. But just as they're trying to get their bearings, they realize each cube is rigged with boobytraps that could kill them if they make one wrong move.
4. Devil (2010)
If you're looking for a movie that combines the deadly psychology of the Saw franchise with a creepy supernatural twist, then Devil is the film for you. In the movie, five strangers all get trapped in an elevator together, which sounds hellish even before they realize one of them might be Lucifer himself.
5. The Collector (2009)
The Collector is absolutely packed with wicked twists. When a wannabe burglar breaks into the home of a wealthy family in hopes of scoring some easy cash, he doesn't expect to find that they've already been burgled and tied up. And he definitely doesn't anticipate that the previous home invader has left boobytraps all around the house to kill anyone who tries to save the residents.
Even More Movies To Watch If You Love The Saw Franchise
You're Next (2011)
Scream (1996)
The Texas Chainsaw Massacre (1974)
The Platform (2019)
Vacancy (2007)
Would You Rather (2012)
Till Death (2021)
Circle (2015)
The Game (1997)
Seven (1995)
The Purge (2013)
Wolf Creek (2005)
Exam (2009)
The Poughkeepsie Tapes (2007)
Final Destination (2000)
Oldboy (2003)
The Last House on the Left (2009)
Untraceable (2008)
The Belko Experiment (2005)
You're Next (2011)
Ready or Not (2019)
The Strangers (2008)
Wrong Turn (2003)
WAZ (2007)
The Silence of the Lambs (1991)
Audition (1999)
Nine Dead (2010)
Intruders (2015)
Don't Breathe (2016)
Split (2016)
This article was originally published on